Home now. We had a lovely warm drive up the coast. The cats and I both do better with the top down. They don't cry as much and just stare out of their carriers at the trees flashing by. It must seem like a really great big TV. Or maybe they're so terrified that they can't open their mouths to scream. I don't think it's that, though.
They're prowling now. Digit is upset. But hey, he's always upset about something, isn't he? Adah has settled right in, and she went straight to her new scratching post and scratched it. How does she KNOW to do that?
Mom and I had a wonderful day yesterday, chock full of things neither of us had to do. The best kinds of things, like lunch at Robin's in Cambria, sitting on their outdoor porch, avocado and melted jarlsberg on a wheat croissant…. Shopping idly at Ball and Skein, buying nothing (what is this world coming to?). Wandering up the coast a little farther, to Piedras Blancas, where the elephant seals lay out. Holy cow, I love those things. They're just too silly looking to survive, and yet, they do. The big males are pretty darn disgusting (they can reach over nine thousand pounds), but all the moms and babies are hysterical. They yell and bawk and squish over each other, and they make me laugh.
A bunch of 'em: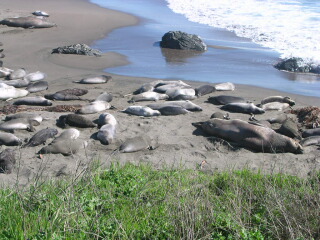 One smiling: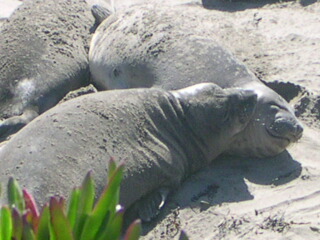 Two smiling: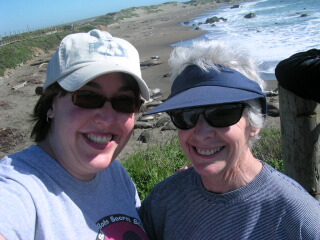 Get a Free Short Story!
Subscribe to get a free copy of Socks for Alex, a Cypress Hollow Short Story, compatible with all devices!