I have now officially gone crazy. You heard it here first.
Went to Marshalls with my friend Marama and found a little something. Okay, a big something. A big, cushy cashmere sweater, size men's large. It was kind of gray/brown tweedy, and I LOVED it. I wore it around the store, begging Marama to tell me it was WAY too big for me.
– Nah, it's all right.
– No, TELL me it's too big.
– It's kinda cute in that sloppy weekend way.
– I canNOT buy it.
– Fine. Don't buy it, then.
– I HAVE to buy it.
Then I told her I was gonna buy it and rip it apart for the yarn. She looked at me like I had grown a third ear. But come on — it was huge, and the yarn itself was pretty heavy-gauge, as cashmere goes. Standing in the Marshalls aisle, I studied it: Looked to be about 6 thin plies, threads of gray, brown and a soft off-white. I examined the seams: It was made in pieces, not in the round, but I could see the seaming okay, and I thought I could do it. I figgered it would either be the best or the worst fifty bucks I had ever spent. (Fifty bucks! Imagine! At Marshalls! It had originally been two hundred, then marked to ninety-nine when it hit the discount store, and then another 50% off by the time I arrived. Meant to be, I tell you.)
Got home, and got nervous. So I tried it on.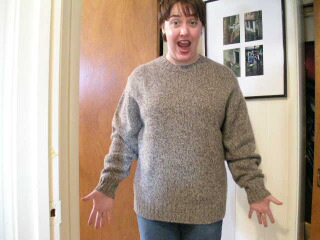 Yep, a leetle big. Then I sat down and started snipping. Okay, ripping up sweaters is HARD. Especially when it's fifty bucks of glorious cashmere. (Some people love it, some are ambivalent, but I am a cashmere whore. I mean it. It makes my stomach drop to touch the good stuff.)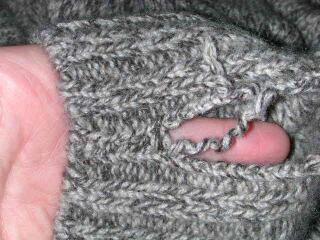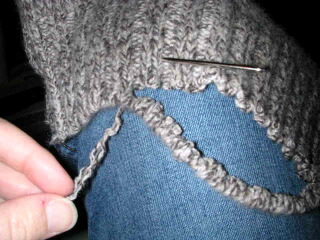 I worked for about three hours on it and now it's mostly in pieces and I managed to get one sleeve unravelled. I put it into a loose, curly skein using the swift, then wet the strands and hung them in the bathroom from a coat hanger, another coat hanger hung from the bottom (with a box of shower-curtain rings attached for weight.) When they're dry, and straighter, I'm gonna wind them into balls.
Dude. Good thing I got that ballwinder and swift! (But if I hadn't, I prolly wouldn't have bought the sweater. Damn. Chicken or the egg?)
I hope it works I hope it works I hope it works. I want to make a nice, simple V-neck raglan, in this thick cashmere sin. Oh, yes. I'll keep you posted.
And just for Friday fun, here's where Adah slept last night. I didn't have the heart to move her. It's my overflow yarn basket, where I had thrown a couple of sweaters. And yes, that's Indulgence to the left. Shhh.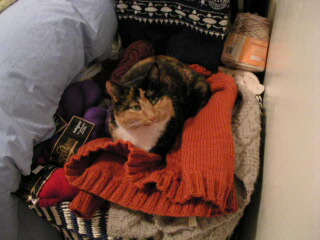 P.S. Got some Imitrex from the doc yesterday for the migraines. Whoopee!
Get a Free Short Story!
Subscribe to get a free copy of Socks for Alex, a Cypress Hollow Short Story, compatible with all devices!