and by that I mean a couple of requests, but it's just WAY more fun to say by popular demand, I give you the cabled straps of the crazy new ChicKami: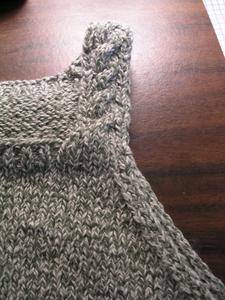 It was exceedingly difficult to get a photo of those! The yarn doesn't do much for cables, I have to admit. Or cables don't do much for the yarn, whatever. Basically, I narrowed the wide straps to 10 stitches (because of my larger gauge in the Bernat Denim Style yarn), and worked them k2, p1, k4 (with a 2X2 cable every six rows), p1, k2.
The waist cable below was p2 k6 (3X3 cable every six rows) p2, with k4 on either side, all the way around. I did no side shaping, since the cable does that for you. Couldn't be easier to adjust Bonne (I got the spelling right for once! How could I not have noticed?) Marie's excellent pattern.
Get a Free Short Story!
Subscribe to get a free copy of Socks for Alex, a Cypress Hollow Short Story, compatible with all devices!