My favorite sign slogan. Damn, I love that.
Yo. I'm sittin' in Brooklyn. Yes. Yes, I am. I brought my laptop with me, and I've been writing just a little bit, but it's been soooo hard to find the time to write what with all the marchin' goin' on. At some point I'll get to a point on this trip when I can download all my pictures and show you a photoblog, but for now, just go read Em. She writes about the day so beautifully.
Seriously, it was one of the best things I've ever done. To sum up incredibly briefly: We marched. We were at the beginning of the march, but still hit walking traffic — those bottlenecks that prevent motion but promote talkin' to your neighbor. We were all the best of friends. Walking past the White House, the chanting and yelling got exponentially louder (that's actually how I knew to look over and see the little manse). Darling Maggi was there, with her extra-darling Wee C., who thankfully slept in her backpack while we marched past all the bloody signs the opposition were holding. Whew. I mean BLOODY. But we didn't look. Instead, we chanted, and the chanting got louder as the screams from the Pro-Lifers got more vitriolic. At one point, I found myself leading one: Picking it up from a woman next to us, I would yell, "Keep! Abortion!" and the people around me would yell, "Safe and legal!" I felt frightened and strong at the same time.
Our knittin' group (about eight strong, see Em for details) marched into the Mall and set up camp. We broke out our knitting and shared our sandwiches (I can't wait to show you the snaps of C diving across the lawn for mouthfuls of my turkey). SO MANY people wanted to know more about Knitters Against Bush and where we got out tee shirts. Older women were gratified to see people still knit, and younger people just thought we were cool. (Maureen, you rock.)
We walked out of the Mall, after sitting and listening to speakers for almost three hours (like Madeleine Albright, Gloria Steinem, Whoopi Goldberg, Camryn Manheim, Ashley Judd — not to mention THE INDIGO GIRLS!), only to find to find that people were still streaming in, full force. We stopped, astonished, and asked someone, "You're not actually still marching?" This was FOUR HOURS after we had started walking. When they said Yes, Em and I burst into tears. It was overwhelming.
I didn't mean to write this much. I only meant to say hi.
I'm sitting at Michelle's computer, and it's a sunny day in Brooklyn, and this is my first day EVER in New York. So I have to go. But here are a few pics I was able to get off my camera phone.
Bethany behind Tach, in front of the Watergate.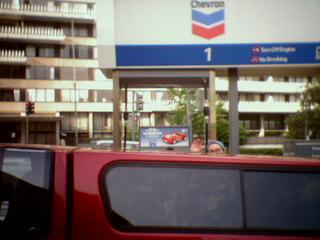 Me, on the lawn of the Mall.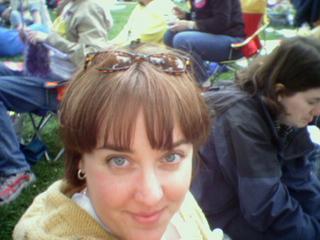 Me! Em/Michelle! Maggi!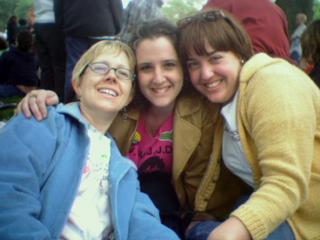 Knitting has been all around us. Yesterday, we knit, like, ALL day with the lovely Maeve and the fantastic Wendy (hi, girls! Pictures to follow at a later date!). Drank some beer. Took the bus that runs between DC and New York Chinatowns. Today is for exploring, tomorrow is for yarn shopping and more knitting (with the lovely CARI). After that, no plans. Ramblings with Bethany.
Keeses to all.
Get a Free Short Story!
Subscribe to get a free copy of Socks for Alex, a Cypress Hollow Short Story, compatible with all devices!