Michelle points out, sweetly, that I didn't really mean "hoi polloi," yesterday, and suggests "hoity-toity." She's right, and I'm a little chagrined, my Grammar Avengin' buddies. As a child I internalized the wrong meaning to this word, and even though I KNOW it means the opposite of what I think it does, I routinely forget it. (Just like if I'm not very careful, I say con-fis-ti-cate instead on confiscate. Now, that's TRULY embarrassing.)
Shakin' it off, shakin' it off.
Shakin' it off to the tune of US needles, size ONE!
Yes. I got gauge with ones.
The hell?
I am the loosest knitter in the universe, I do believe. (This makes me particularly popular in certain bars.) This is an aran-weight yarn, and suggested needle size would be four or five (US) to get Ms. Starmore's 25stitches/4 inches. Me? Ones. Oy. Lord, the only way I could get 25st/4in on (US)5 would be to use sock-weight yarn. Now that would make an interesting Celtic sweater, no? Mini-ringel cables?
But I swatched! (Minimally, seen here. But it's more than I usually do.)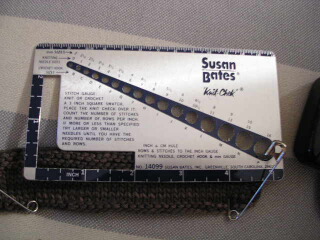 And I'm about an inch up one sleeve (after doing a facing which I've determined it needs – I don't like that raw cabled edge curl thing). It looks fabulous. I could SO easily eff this all up, so I'm proceeding slowly and thoughtfully. This will not be a read-while-knitting piece, and I'd like to finish it up quickly (as quickly as allowed by size ONES), so I'll be getting a lot of TV watching done, I prognosticate. (A more appropriate word-choice would be "predict," but "prognosticate" is at the outside of allowed, so I'm throwing a four-dollar word atcha. And I like how it echoes my incorrect pronunciation of confisticate.)
I adore Koigu, both the Painter's Palette and this Kersti. Carrie asks, what gives? Why is Koigu so good? Listen: It's smooshy. It makes a great, very soft fabric (I swear this stuff can't be 100% wool, but it says it is), that when knitted, makes you want to be a Very Little Creature and bounce on it. It's squoozable. If Carson from Queer Eye touched it, he'd zjooojzh it. It's like wool angel food cake – lotsa air in the batter. That about right, fellow Koigu fans?
And yes, Em, I slept with Kersti on our first date. I don't regret it, not for a minute. In the morning, she was still there for me.
But size ones.
Zjeeejzh.
Get a Free Short Story!
Subscribe to get a free copy of Socks for Alex, a Cypress Hollow Short Story, compatible with all devices!