Happy Writing Thought for the Day:
"The deepest secret in our heart of hearts is that we are writing because we love the world." Natalie Goldberg
Psst! Don't tell anyone, though.
I've tried so hard, at various times in my life to be the dressed-in-black angst-ridden writer, and no one's ever bought it. I would form my face into a mask of bleak despair and then laugh on accident. The only thing I got right was the smoking, oh lordy, was I good at that, but no one ever bought that either. I can't count the number of times people said, "You just don't look like a smoker." I wanted to stamp my feet and yell, "Oh, yes, I do!" but I didn't really know what they meant.
I suppose I don't look like a writer, either, not the kind Hollywood (and Dave Eggers) promotes, but maybe Natalie Goldberg would recognize me?
Today I'm going to be a world-loving writer. Yep. Big plans for the day.
Backstory: My car has had a shimmy for a while. Maybe a year or so. A bad shimmy at certain speeds, and it recently got MUCH worse, making it really difficult to drive between the speeds of 55 and 65. This blew, because Bay Area traffic usually traps you right in the 60mph range. I got used to the cheek-shaking judder and apologized to shocked friends and family. "Yep, I need to get the alignment checked." But I never felt like I had the extra money. I wanted to get it done last week, but Mom was coming in to town, and I knew we'd be driving a hell of a lot. I didn't want to take the chance of getting my car caught in a mechanic's shop. I put it off until Monday, when I took it to the tire place.
"I need an alignment."
"Okay. When was the last time you bought tires?"
"Those are the ones that came with the car, but the tread looks okay."
"You get them rotated?"
Silence.
"Let's go look."
We walk.
"See? The tread's just fine."
"Uh-huh." He kneels, looks, turns the wheel so I can see the inside tread.
There is none. At all. I've been running on two-inch wide strips of the metal fibers that lace under the tread – NO TREAD AT ALL – on the inside of ALL four tires.
Holy crap. My knees got a little wobbly as I realized how lucky I had been – my mind flashed on driving up the mountains to Yosemite last month, driving my sisters to the City, driving my mother to Stanford last week!
So, after I recovered, I bought four new tires and an alignment, and my car drives like the sports car she is now. Lord.
To celebrate, I'm driving down the coast today with the destination of Duarte's, the home of the best olallieberry pie in the universe. Bethany took me there last year, and I want to recreate the drive today. I'm taking the laptop, and I plan to do some writing over some coffee. I might even hit the yarn shop in Half-Moon Bay. It's overcast today, but sometimes that's the best way to drive with the top down. In Greta's honor, I'll wear sunglasses (I'll have to find a pair, first).
Here's a photo of me and Bethy on her birthday earlier this year, Christy took it. I love this picture. We were on our way to the Mystery Spot and we were soooo goofy all day. That's what life's about, huh? Enjoy your day and be a little goofy. But rotate your tires, okay?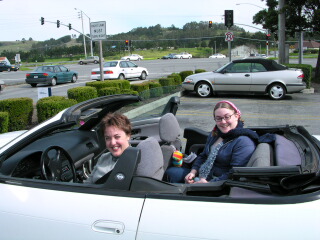 Get a Free Short Story!
Subscribe to get a free copy of Socks for Alex, a Cypress Hollow Short Story, compatible with all devices!