Feeling a lot better today. For the first time my energy feels "real," not something brought about by coffee. Not that I'll squander it, mind you. Not messing about with pneumonia, I promise. But I know I do have enough energy to go buy some pots and some soil and then to tamp my little plants into them. No more than that. But if I don't get Out There, I'll get sicker. I know that. Must. Be. In. Garden.
I promise I won't go look at statuary. Ahem.
Hey, I was going through pictures last night, while I was making a new banner (you like? It's a detail of one photo, although it looks like two. I'm standing on a small pier jutting into the canal, looking San Marco-ward. It reflects my current passion for orange…..) and I found a picture of Bethany's sweater. Did I ever show you?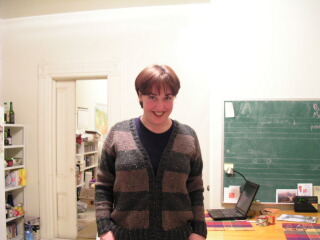 It was for her birthday and it matches the design of Christy's Harry Rodgers sweater (see Finito gallery). I think I made it and mailed it without ever posting the pic. That makes me feel a little better about my gallery which hasn't been added to in a LONG time….. Oh, Cromarty….
And this is what I've been working on lately, while waiting for the new dyelot from Koigu to finish Cromarty:
It's the Retro Prep from the Fall 2002 Interweave Knits, in Noro 55. I tried it on last night, the needles hanging around my neck, and I think it may turn out to be a wee bit boxy on my already boxy frame, and I may cardiganize it, like I do everything else. I'll finish it and let you be the judge.
Off to play now. Mwah.
Get a Free Short Story!
Subscribe to get a free copy of Socks for Alex, a Cypress Hollow Short Story, compatible with all devices!