I would not have believed this, but this is fast and easy, my friends. I'm actually taking a break from eating to put up this post, because I don't want to risk losing this recipe I've made three times now. This is for ham and pineapple, but sub your own toppings (though you're crazy if you do, ham and pineapple is the best). The crust is both crisp and chewy, and tastes better than any normal crust I've ever had (besides Zachary's deep dish, because that's god on a plate). Recipe adapted from this one.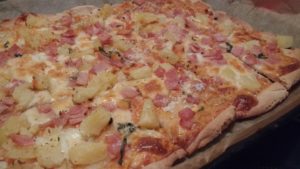 Preheat oven to 350.
In small bowl, mix 3/4 warm water and 1 tbsp yeast. 2 min later, add 1 tbsp sugar. Let sit five minutes.
In large bowl:
1 cup white rice flour (sweet okay)
1 cup brown rice flour
1 cup tapioca flour
3/4 tsp xantham gum
2 tbsp sugar
1/2 tsp baking soda
1 tsp salt
Whisk together. Then, make a well in the middle. In that well,  pour the yeast mixture, 1 tbsp olive oil, and approx 1 c. warm water. Then mix. Add more water if necessary.
On parchment placed on a cookie sheet, flatten the dough to 1/4-1/2 inch thickness (I use a plastic glove oiled with olive oil to make it easy). Parbake 30 min @350.
While it parbakes, throw this into food processor:
3 or 4 small tomatoes (fresh, if you have them!)
3 cloves garlic
3 or 4 leaves basil
sprinkle of salt
good drizzle olive oil
Run food processor till it's chunky but not liquid. Add good amount of grated parmesan to thicken.
When parbake is done (it's okay if the dough cracks, that's normal), pull it out and top with the tomato sauce, ham, chopped mozzarella, and one small can of chopped, drained pineapple. Add red chili flakes to taste.
Bake another 30 minutes.
AMAZING. Enjoy, my friends. Now I have to get back to eating.
Get a Free Short Story!
Subscribe to get a free copy of Socks for Alex, a Cypress Hollow Short Story, compatible with all devices!