I wrote a bunch of crap this morning that now I don't feel like posting. I like my job, very much. It supports my writing and yarn habits, and that's fabulous. But you know? It's a job. And I have to go back to it tonight (and work a 7pm-5am shift after getting up at 8am this morning, sigh). Vacation is over. That blows. It was SUCH a good vacation.
Grrr.
So. Anyway. Here's Bella.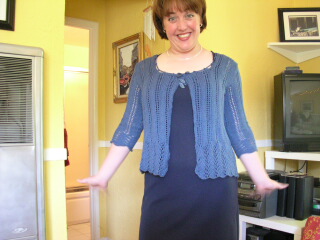 Specs:
Bella, cardigan version (included in directions), size 45 finished bust
Yarn: 9 balls Rowan Calmer, color 479
Needles: 5US
Gauge: 5st/inch
I love this cardie. It's light and so soft, and it just feels good to wear. I added some blue shell buttons I picked up at MDS&W. Do take Joan's suggestion, though, and add a hook-and-eye at the closure, or you'll be safety-pinning it, like me. I'll get around to it. Someday.
Last night Bethany and I took sister Christy out for a celebratory dinner at Fog City Diner in San Francisco. Christy's about a minute away from getting her master's degree at Berkeley, and she deserved a break. We realized that it was the first real grown-up dinner we sisters have ever had together, just the three of us. We've eaten out a million times, but this was the real deal – cocktails to start, appetizers (truffle fries with aioli, and oysters on the side), full dinner, bottle of wine, dessert…. We had the best time. They wanted to walk back to BART, and I was pretty whiney about it, but they were right: it was a gorgeous walk, a clear night, no fog, not many people about, just walking along the embarcadero, watching the traffic on the sparkling Bay Bridge…. It's putting me in a better mood just thinking about it. And these faces! Look what I looked at all night!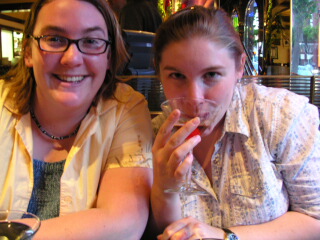 They slay me. I love them.
And now, because you've been so patient, I give you the spoils of war. This is the whole haul. It felt like more when I was lugging it home, but spread out on the floor, I'm not that embarrassed…. If I were a Very Good Blogger, I would catalog the yarns with their colors, vendors, and prices. I'm a Bad Blogger this week. If you MUST know, email me and I'll look up the name for ya. All anyone really needs to know, however, is that the huge green cone is cashmere/merino from School Products. I haven't slept with it yet, but I still might.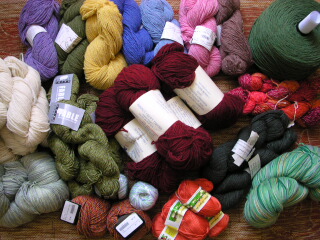 And off to relax. Maybe a nap before work? See yehs.
Get a Free Short Story!
Subscribe to get a free copy of Socks for Alex, a Cypress Hollow Short Story, compatible with all devices!