Don't forget – Friday is not only my sister Christy's thirtieth birthday, but also, fittingly, International Talk Like a Pirate Day. You know Em? Of phonetic first-initial Everybody Loves Saturday Night? My phonetic first initial, I decided, is Are. Except on Friday it'll be Arrrr.
Okay, so I'm groggy this afternoon.
Get it? Hee!
And silly.
Bethany's rambling again. Gawd, I miss that kid. I took too long getting her film turned in, so her first batch of photos won't be up till Friday, but I can't wait to see them! And since the only place she'll see her photos is online until she gets back, I bet she can't wait, either.
I've no head for linear thought today. I've ordered more yarn from the boys. Somebody help me, please. Please? Yarn S.O.S. And I received from them in the mail a bag of charcoal grey Cascade Indulgence, which will be the Wave Along Shawl as soon as I finish these socks I have to make for a b-day which is fast approaching. For hosting the knit-along, I sure ain't far along.
My best friend left for Ethiopia today. She'll be there for almost ten months, teaching at a university there, instructing new teachers. I miss the crap out of her already, instantly. It's not like Bethy, I can't rely on Verizon to connect us, crappy as that connection might be. This is utterly cut-off, at least until she 1) arrives 2) finds a place to live 3) gets a phone connection 4) buys the "internet connection" some people swear is available for the right price. I won't believe it till I get that first email from her.
Bah. I hate goodbyes. Abhor them. We did remarkably well. I saw her two days before she left, gave her a big (huge) hug and we said we'd hook up the next day to say a proper goodbye. Then we both got too busy to do so – she had last-minute-moving-to-the-third-poorest-nation-in-the-world-errands to run, I had to go to work. We chickened out. Thank god. There wouldn't be enough kleenex. I've talked to her twice a day every day for the past four years.
Doesn't bear thinking about. I'm so proud of her.
Off to knit the sock that doesn't slow down (Wendy's pattern, but 56 st on size 3 (US) needles – it's zooming. Also it's huge, whoops.)
You deserve a photo now. Me, alone, in Venice, city of my heart. This was in March of this year. Click for a bigger pic. (I'm getting that rambly feeling again, don't tell anyone. I can't afford it, I can't even afford yarn! I can't afford Venice…..)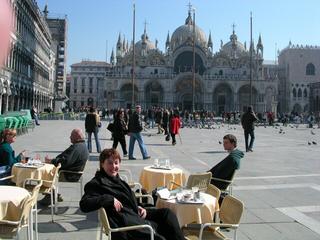 Get a Free Short Story!
Subscribe to get a free copy of Socks for Alex, a Cypress Hollow Short Story, compatible with all devices!