What not to do:
After two beers, sit on the dim couch, watching previously TiVoed Airline episodes with sister Christy, knitting Cromarty. When you suddenly and very unexpectedly come up a stitch short in one of the patterned areas, don't fret! Just make one, purl it as you should, and go merrily along.
I didn't think I was that affected by beer – after all, I've been drinking it for years and years and knitting under its influence at Stitch'n'Bitches for a long time. When I woke up the next morning, before I even got out of bed, I though, oh shit.
I found that dropped stitch, yes, I did. Worked it back up the seven or so rows and fixed the problem, but I'm amused at how blithely I just whipped up that extra stitch without even THINKING that a missing stitch might be something to worry about. Lord.
And while we're praying, please help me with the dyelot problem. I got the yarn from the BoyWonder Rob (and another slew of Noro 55 – I mentioned to him that it was a good thing he didn't sell drugs – he laughed his evil laugh and inferred that the skeins might be laced…..) Koigu Kersti is one of the best yarns I've ever worked with, but one of its magical properties is the color – it's hand dyed, and I knew this dyelot might be a little different. But it's quite a lot different: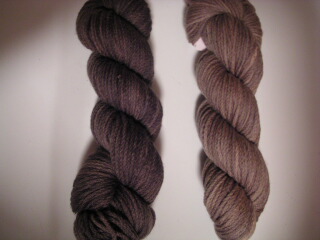 It's the difference between a coffee with a splash of cream and cafe au lait. In certain lights, it's not very noticeable. In others, it is. So. Now. Help me out.
** Here's where I originally had a long What I Could Do entry. But then Marvellous Rob emailed me, saying, Oh, I have some of the darker, too. Send me your old one and we'll match it.
See why I love him? I want to marry him. Although Matt might not like that. And you know this pesky country of ours won't let gays marry.
Heh.
I *heart* Rob.
Get a Free Short Story!
Subscribe to get a free copy of Socks for Alex, a Cypress Hollow Short Story, compatible with all devices!