I worked fourteen hours last night, and I've been fighting a headache for two days now. I think it's true: If you miss that caffeine window, the headache has a place to snake its gnarled little fingers in, and it doesn't let go. I did it again today – hit the ground running and kept MEANING to get coffee, but it wasn't till now, seven pm, three hours after waking up, that I've finally made the death-strength espresso that I sorely need.
Chugging espresso (with a leetle sugar and some half'n'half. I ain't stoopid.) Work, come on, baby. Kick in. I need you. Oh, darlin'….
I had a couple or three missions when I woke: Drop off a book and CD for a friend. Check. (Bonus: Sun-warmed tomatoes, right off the vine.) Get to the LYS and look for yarn for a shawl. Check. Get to yoga. Nope.
You know what happens when you go to the Local Yarn Store, right? This shawl is one of those projects that has been haunting me – a dear friend said one day that she wanted me to make her one. I chortled or did whatever it is I usually do to change the subject. Since then, she's watched me turn out project after project, and she's become serious about it. Please? Pleezzzeee? I put her off, but for some reason it came up again last night, and I found this pattern, thanks to Wendy and her new lace links.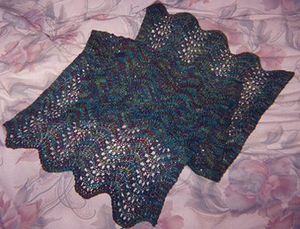 NOW I'm excited about it. Don't worry, I'm not a pushover (well…. not when it comes to yarn, anyway). I WANT to make this for her. It just took until the time was right to get motivated.
Went to the yarn shop and realized that every skein I picked up was unreasonable. She wants black, I want outrageously soft and rich. Yeah, right. Looking at over $140 for this puppy. I love her, but I just don't have the funds. So I gave up the yoga idea and trundled over to Michael's (sob) and picked up some gonna-be-just-fine-get-over-yourself Wool-Ease in black. The lace pattern will show well, I think, and she'll love it. I just wish I could have used the cashmerino….
Coffee's starting to hit me. Aaahhh. Imagine what it must feel like to have a heroin addiction (typo: heroine addiction – I have that already) if just getting a coffee fix feels this good. Damn, I miss smoking.
[Aside – did you notice B came to her own defense in the comments below? Nicely done, says I.]
Oh, and it's Cari's birthday! Thirty! Now is when it all starts….
Get a Free Short Story!
Subscribe to get a free copy of Socks for Alex, a Cypress Hollow Short Story, compatible with all devices!