How 'bout a photo blog today, because I'm TIRED and LAZY. I absolutely adore going home to see the little mama, but I drive south the moment I wake up on Tuesday and come back Thursday night, and have to get up early on Friday to start my week. I completely neglect things like laundry and vacuuming. And sleep.
Yawn.
Oh, well. That's the way the chocolate chip cookie crumbles. Like these: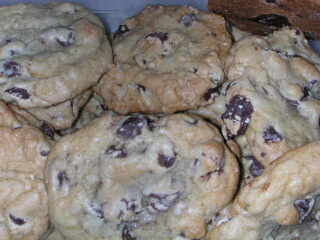 Mariko gave them to me! And OH, are they good. Let me rephrase: Oh, WERE they good. See all those? All gone.
And here we are: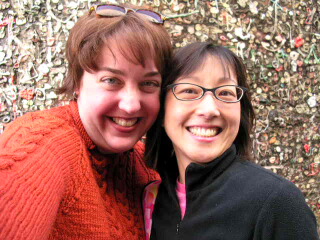 We're in Bubblegum Alley, one of the tourist attractions of San Luis Obispo, which is midway between her house and my parent's home. As a kid, I thought this was the coolest thing ever, and my little brain dreamed of owning all that gum, pre-chew. Now it's rather germy, but still grossly cool.
We had a lovely coffee together at Linnaea's, the coffee-house where I spent many, many under-grad hours. She was as delightful as you would gather from her blog, and I wished we had had more time together. She has the biggest smile! Again, it was weirdly Not Weird. You would totally think it would feel odd, meeting an on-line friend. But it doesn't. It's just like what it is: Meeting a friend for coffee. She's a doll. (Another picture is over at her blog.)
Mom's doing better! Still not much motion in her final diagnosis or treatment, but we did manage to bully from the PA a referral to the endocrinologist that she needs to see. The PA said that she was qualified enough to tell Mom that there's nothing else to be done, that she'll just have to ride the thyroid problems out, but I refuse to accept that, and I talked Mom into agreeing with me. And more, we talked the PA into writing the referral. So my mission was accomplished. HiYAH!
We managed to get to the movies, too. We saw Girl With a Pearl Earring, which was bee-yoo-tiful. And hello, Colin Firth. That man gets more ger-jess every time. I swear, he's LoTR-Viggo-cute in this one. Mom says it's just the hair, but she was a little swoony, too.
Here's the little mama with her little cat Kahlua: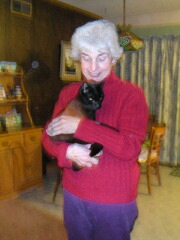 I realized while at Mom's house that she has: One incontinent cat, one deaf/allergy-prone cat, and one hyper-thyroid cat. She sees the vet as much as she sees her own doctors. No, more. This one is the deaf, 16 year-old one. They manually hydrate her every other day because she suffers from kidney problems, too. Oy.
More pictures:
Driving home from the fabulous Mariko visit, I stopped off in Shell Beach. The novel I'm working on is set there, and I wanted to drive the streets, see if I could pinpoint exactly where my main character lives. (I actually did find the house, I think, but there was a fella working on his truck in her driveway. The cheek! I cruised past it a couple of times with the top down, and then finally shot a sneaky sideways snapshot, but I think I was made. Not a good photo, either.)
But here's what's at the end of the street: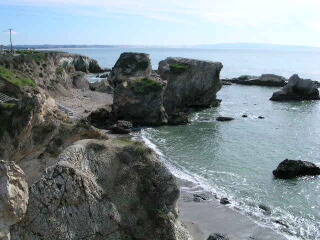 This is where we like to have donuts in the morning, when Mom's feeling up for it. Next time I go visit, we'll be right here in the morning, listening to the seals bark.
Back on the road, I stopped off in the Arroyo Grande village so I could show y'all the Swinging Bridge. It's behind City Hall, suspended over the little creek. As a kid, it was THE thing to do, run to the middle of it and jump or rock until the bridge got swaying enough to make a five-year-old seasick. As eight-year-olds, that was cool. Here's the bridge: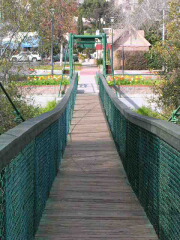 And here's me, just 'bout ready to run over it, all by my lonesome.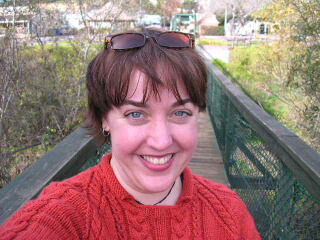 Dude, that was fun. But remember, while in the park, please don't let your dog: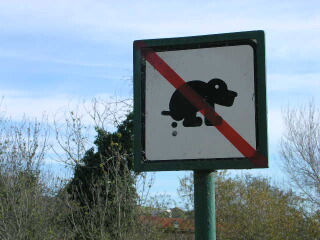 Now, isn't that taking a visual cue a leetle too far?
One last image before I jump back into Real Life; these are the chickens that live behind City Hall.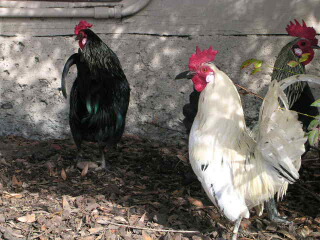 That's what kind of a rural area it is. Well, okay, it's not THAT rural, there are more SUVs than pick-em-up trucks, but the town is ringed by strawberry fields, and the mayor is usually an acquaintance.
Now. Back to work. Happy Friday to you! (Rogue pics soon, I swear.)
*Random thought – I want TiVo. Bad.
Get a Free Short Story!
Subscribe to get a free copy of Socks for Alex, a Cypress Hollow Short Story, compatible with all devices!