Ah…. I'm home. Bethany's here, too, seeing my apartment for the first time. Actually, she's a great person to have around, since she woke on east coast time and walked to the store while I was sleeping. At the moment, she's making us ham and cheese croissants for breakfast while I type.
Hello, George! I love my huge aloe plant. He's still here outside my window, no wild fencing having been erected while I was gone. I did come home to find that my house-sitters had put together the cheapo porch-glider-in-a-box that I had vaguely suggested they might find fun. It had been sitting in the rain and sun for weeks, staring at me. I hate putting things like Ikea furniture together, and this was Ikea times ten. I have a glider/swing thing now! Must start planning that party….
It's nice to be home. But I have to say, this was one of my best vacations ever. EVER. One of my favorite things on getting home is thinking over the best parts of the trip, and I've been doing a lot of that. It's a wee bit overwhelming, though. We did so much, and went so many places, and met so many people that I find it hard to remember them all…..
Photo Recap
I realize that I never really wrote about the Maryland Sheep and Wool Festival. I won't belabor the description, as my friends have already shown you things and told the tales, but I have to say: It's the happiest place on earth. It's WAY better than Disneyland (and I love me some Splash Mountain). I just couldn't get over walking through the dirt, between barns FULL of gorgeous yarn, listening to people playing Celtic music, looking at lambs and ewes and rams and alpacas and bunnies and sheepdogs, running into friends and getting hugs. I mean it. I could NOT get over it. Bethany probably wanted to slap me over the head, because I must have been grinning idiotically, both days. (Although I must tell on her: She woke on Sunday telling me that we had to get there early, as soon as it opened, because we still had so much to see.)
The line of cars to get in (the festival is still about a mile away):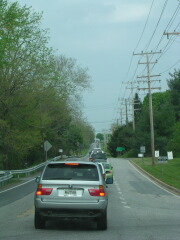 Macabre. But funny. I'm sorry.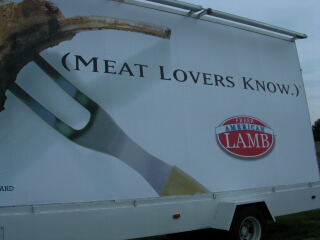 Walking through a barn: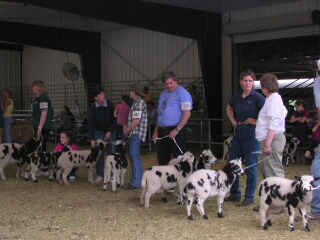 Lookee who I found!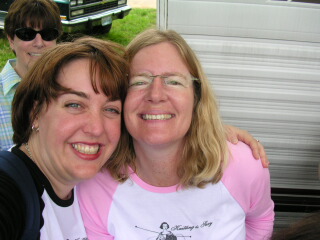 And who else I found!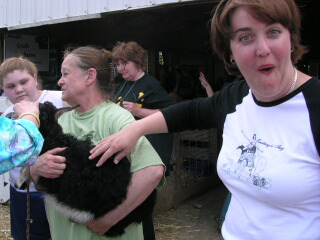 And more (Silvia, Theresa, and BonneMarie):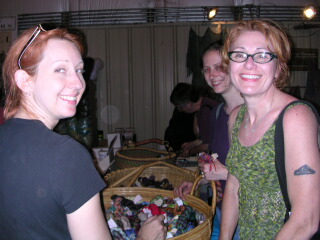 See how happy Tach is out in his field?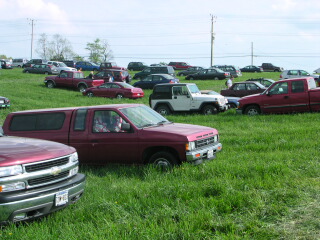 As Kathleen says, deep fried twinkies are dangerous. You can choke on the powdered sugar, and watch out for the sticks. But damn, are they good.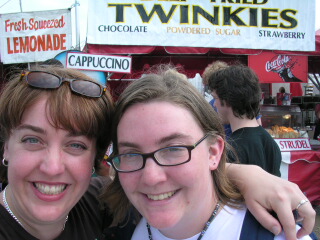 Sheep shearing.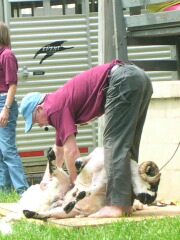 Sheepdog working.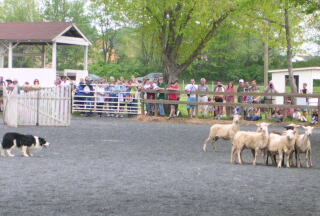 Look, Mama! South Downs. (The kind of sheep she raised in New Zealand as a child….)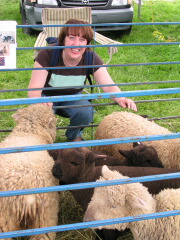 (While at the festival I remembered one of my all time favorite memories: Being in New Zealand, on Uncle Jim's farm, playing in the shearing shed. There was a long wool chute where the fleece was thrown, and we kids could slide down the chute into the piles of soft, lanoliney wool. I was telling Bethany about this and she said, "well, that explains a lot.")
Then on to Richmond, where being with darling Maggi was only enhanced by hangin' with the smartest cutest almost-3-year-old I've ever met, Wee C: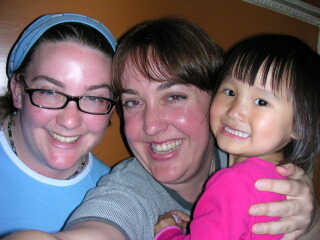 Driving more, driving north, and we drove through Mystic, a gorgeous little town. It was weird, but we were thrilled to see this: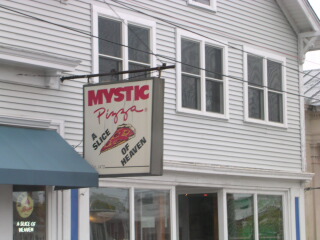 We both really like old graveyards (like the magnificent Hollywood in Virginia), and this was the Mystic one, right on the water. I liked this photo best, though.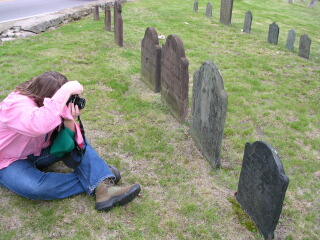 [Total odd aside: Does anyone know anything about a church in a city just east of Mystic, CT on Rte. 1? It's gorgeous, and huge, and is on the right while headed east, fronting a large graveyard. Bethany and I want the name of it……]
A co-worker (#85) told me about this hole-in-the-wall restaurant in Providence, an Italian joint he worked in as a busboy fifteen-plus years ago. We went through Providence just for dinner, and man, it was worth it. It was tiny, with maybe ten tables, no alcohol (but you could walk it in from the bar across the street), and a chef that Bethany thought was really good eye-candy.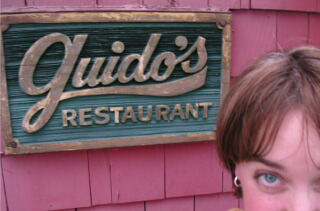 We drove hell-for-leather that night to make Hyannis after Providence. We wanted to be near the ferry boat to Nantucket the next morning. We got a little lost, and had no place to stay, but had seen a hotel listed in one of those discount hotel books you pick up in Denny's lobbies. We were sure we wouldn't be able to find it, but driving down Main Street, Tach turned into a parking lot. Bethany thought we were thinking about options, but we looked up and we were IN the parking lot of the hotel we wanted. They had forty-dollar rooms, and we got room number eleven (!). I asked the clerk where the ferry left, and he pointed down the street. He told us we could walk, and we could even leave Tach in the lot if we didn't want to pay the $20 parking fee the ferry would charge us. AND there was a pub attached to the hotel, the Duck Inn, where we had a nice lil nightcap.
Next day, on to Nantucket. It was WINDY on that high-speed ferry: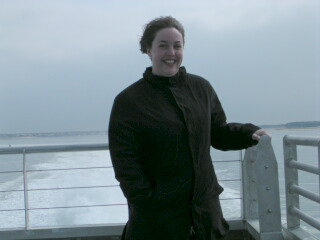 Do you know how much I love Nantucket?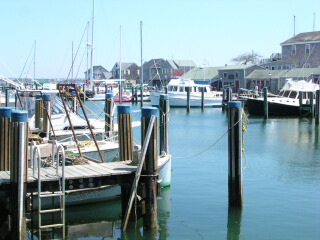 And they love me: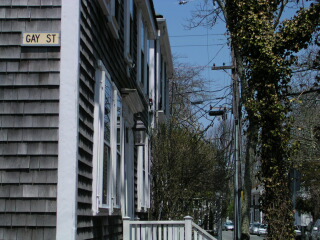 We met darlin' MJ in the Even Keel at noon. She was on her lunch break. We had never met, but we hugged, chatted a bit, and then she said, "Here are the keys to the car. Want to take me back to work? And meet back at the house tonight for dinner?"
She let us have the car! It was awesome! (I guess we couldn't have stolen it, though. It is an island, after all.) We drove to have lunch on the water at a little local place she told us about, went to the yarn store (Sheep to Shore), bought this local MA yarn: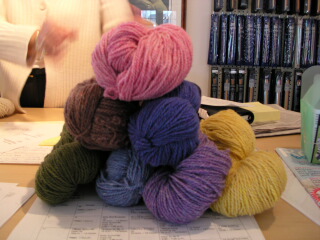 Then we drove to the Surfside beach and took a nap here in the sun: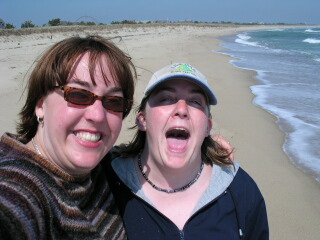 Oh, nap photo: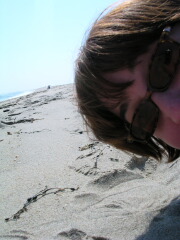 Am I killing you with photos? Oh, well. I cain't help it.
This is how cool MJ and Steve were. We had been sitting around her kitchen, watching her do this graceful dinner-making dance in front of us, talking of cabbages and kings, when Steve came home. He asked if we wanted to go driving on the beach . MJ took the food off the stove and wiped her hands on her apron. We piled into the jeep and headed out.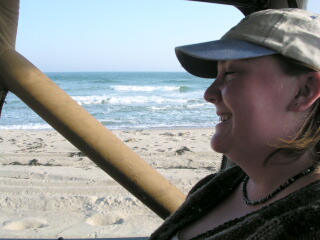 It was two days before the real season started, so a lot of the shops were still closed for winter and there was still no one on the beaches. Well, almost no one. There were several of these guys. Say hi: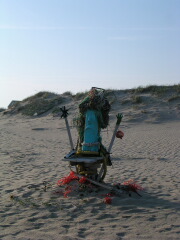 We *heart* MJ and Steve (and cool cat Jake). The next morning, we still had their car (which we left in a downtown lot with the keys on the running board, doors unlocked — it's that kind of town), so we headed out again. Did you know Bethany swings?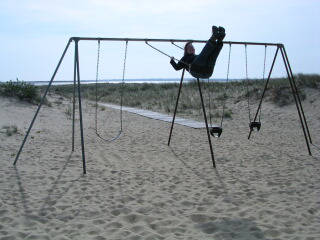 Went to the airport. Come on, you knew we would. Hello, Wings….. We walked through but saw no one we recognized.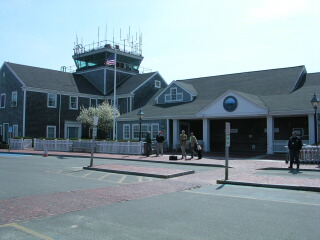 Not shown: We also went to the dump, on MJ's recommendation. They had a terrific Take It or Leave It (she showed me the cones of yarn she got there once) and we found a nice little wool coat that Bethany's wearing to the wedding tonight. Heh. Don't tell the girls…..
Okay. Now tired of blogging and want to get some knitting done (and catching up on blogs and emails will take DAYS). Hurrying: We left Nantucket regretfully. On through Cape Cod, which was gerjess, and into Boston where we hung with Maryse and Amber (thanks for putting us up, cutie!) for a short time.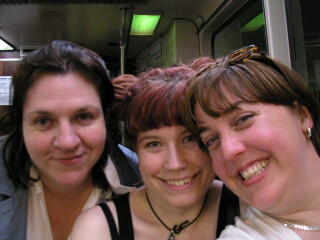 Had to split WAY early and get to the airport which was REALLY difficult from downtown. Luckily we had left in plenty of time to get lost and still park in economy. And we flew home! Bethany's back in the City she loves! And I'm home. No matter what, there's nothing like everything being in place, including yourself.
To all those I met and hugged and loved up, thank you, for everything you gave us. To those I missed, next time? Yes?
Coming up in the next post (someday): Stash brought home (OMG) and the finished Bella cardie (turns out I had plenty of time, finished it in Richmond, watching Sopranos with Maggi). Ciao.
Get a Free Short Story!
Subscribe to get a free copy of Socks for Alex, a Cypress Hollow Short Story, compatible with all devices!