Having Moved is like Having Written. You can kick your feet up onto your new Ikea table while sitting on your relatively new loveseat, have a look around, and realize that there is NOTHING to do. None of those pesky, normal "shoulds." You don't have to clean out any closets, 'cause you just filled them. You don't have to clean under the bed or refrigerator, because you already know there aren't any dust bunnies. The freezer is stocked with identifiable food. You can knit and watch crap TV with a clear conscience, none of that niggling guilt.
Of course, I Haven't Moved yet. Deep sigh. One of my closest friends yesterday despaired of me while we were on the phone. "I don't know how it is that I can move my husband, my kid, and entire house full of stuff on ONE DAY, and it's already taken you a week, and you're not done?!"
Nope. I still have the bedroom (read: huge closet full of stuff I haven't seen in years) and the hall closet (ditto). And my motions resemble those of a slug when I move, I've discovered. I don't throw anything into a box. I pick up the glass snail I bought in Murano while I was with my gorgeous gay porn-star friend Brian-Mark (I met him on a bus-boat one afternoon and we fell into immediate friendship). I look at it, turning it in the light, remembering how we had found together the Snail Staircase in the back twists of labyrinthine Venice, and stood in that postage stamp square, looking up, wishing we could climb the scrolling steps, discussing the difference between the normal Italian word for snail (lumaca) with the Venetian dialect (bovolo). Then we hopped the vaporetto and went to Murano, the island of glass, where I bought this little glass creature in memory of our day.
Then I'll put it in the box.
Then I'll call my mother/sister/friend and put my feet up and talk about that time I bought the snail in Venice. Or I cruise a few blogs (only furniture left in the old place is the chair I write in and small TV table for the computer – this is the last day for internet connection). Or I grab my sister Christy who's riding her bike by my apartment on her way to school and MAKE her come inside to chat.
I hate moving. If I could get my ass in gear, I'd be done today. Wish me non-snail like motions, okay? I need to be like the wind, like the cold, sharp air you feel on your face as the boat heads into the lagoon and toward the Lido….. Stop. I need to stop writing, stop fucking around, and get to it. I'll be happy when I'm done, and that moment is within grasp. So that's my day today. Tomorrow I'm pretty sure I lose internet service for a few days, so I'll be offline, not checking email at all, so forgive a delay in response, please, and for now, enjoy this view (I'm not sure how they took this; the photographer's back must have been pressed right into the wall of the house behind him. The staircase takes up most of the square, with a tight walkway around it):
Il bovolo: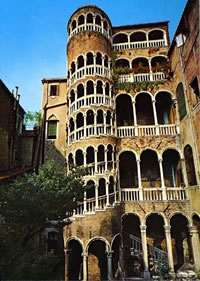 Get a Free Short Story!
Subscribe to get a free copy of Socks for Alex, a Cypress Hollow Short Story, compatible with all devices!