See? It takes all y'all whapping me upside the head to figger it out. Alison's was the best: "Don't worry about calling in sick, you knob. You're SICK!" Oh, yeah. Then I guess it's okay to call in sick.
Novel idea, eh? (hmmmm…. novel idea……)
It's just that…. At some jobs, when you call in sick, your work piles up. You're gonna be screwed when you go back, and other people may be inconvenienced if you're not there, but their lives aren't really overly affected. At my job, if my ass ain't in the seat, someone else's ass has to be there instead. You don't close 911 due to staffing. So by calling in sick, I'm forcing my friends to have to stay twelve or fourteen hours, overtime that they weren't planning on, probably cutting into plans that they already had, and they can't say no. It's forced overtime. It's usually just easier for me to go to work sick.
Sick, no?
Eh. So it's almost a relief that I woke up this morning still feeling awful. "Whew! I really WAS sick, wasn't I? Hey! Good thing I didn't go to work."
(I think this is why I'm drawn to all things Catholic (girlfriends, candles, countries) – searching for a place to lay my guilt. At least if you're Catholic, you have a REASON to feel guilty. Or at least a long tradition of feeling so. Being raised Episcopalian, I got nothin' but some good hymns and a love of liturgical robes.)
(Judaism also appeals, gotta tell you.)
(It's got to be wrong to be attracted to a religion for its romantic aspects, doesn't it?)
(More guilt.)
(Now I'm just abusing parentheses.)
So I loved hearing the common-sense you all gave me. I'm taking it very very easy today, just knitting and reading, and then I start the new day shift tomorrow, Sunday morning! I'll be healthy and happy and raring to go.
PS – That lick/spit thing worked SOOOO well in splicing the ends that I was actually able to go back and fix my glaring error in judgment. Thanks to Rob for suggesting it and Lisa for giving me great directions on how exactly to do it. If she hadn't, I would have probably just licked the ends and done some kind of macrame-wishing dance that would have ended horribly.
PPS – I was noodling around, taking pictures of the thing that I always take pictures of: The Adah. Look, ain't she purty?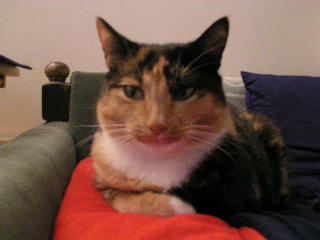 And then I was feeling a little off, and wanted to scroll through the pictures on my camera, so I put my feet up on the divan and rested on my back on the carpet. This is what I could see from this vantage.
To my right: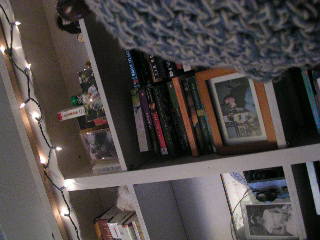 To my left: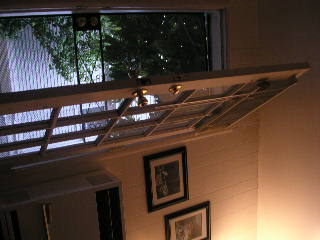 Overhead: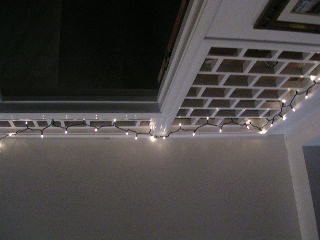 And looking down: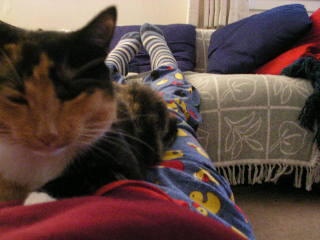 It only takes a second for her to settle in (and don't expect my socks to match my pants on an in-house Saturday – I know yours don't, either). Enjoy your weekend, all!
Get a Free Short Story!
Subscribe to get a free copy of Socks for Alex, a Cypress Hollow Short Story, compatible with all devices!