Writing the morning pages have been a slog lately. It's all a state of mind, I know. Every time I do them I discover something, a little nugget of truth that I didn't know before. Sometimes it's a pretty big nugget. But I still whine about it. I haven't yet arrived at the place where I do it without thinking, like breathing – make the tea and pick up the pen before the brain switches on. I'm sooo glad that I have a virtual family of people doing it with me, some probably at the very same minute or I just wouldn't do it. There's a lot to be said for accountability.
Reading The Vine of Desire, by Chitra Divakaruni. It's the second of two books about two cousins raised as sisters, and I adore being inside her pages. I've seen her read several times, and she reads as she writes, beautifully paced, with full feeling. In the novel, Anju is thinking about being a writer. Last night I read this:
One day she sits by herself at the edge of the quad, watching. A boy in a punk haircut with a razor blade hanging from his earlobe, whizzing past on a skateboard, a young woman in slacks and a brown veil that covers her hair, an older man who carries a cat under his arm and speaks urgently and continuously to himself, an Asian couple, hands waving as they argue with energy in their own language. Watching them she sometimes forgets to breathe. That's how much she wants to glean their interiors—what they do when alone, where they are afraid to go in their sleep. She is convinced their lives are more interesting than her own. But perhaps all who hope to be writers must believe this? She holds them in her mind like Rubik's Cubes, turning them over to see how they are put together. She imagines their problems in jewel colors, nothing like her own fatiguing banal troubles. In a notebook that is filling up fast, she writes to her father, "I love the problems of strangers because I am not responsible for solving them." (p.124)
Isn't that marvelous? That's what I LOVE about my walks in my neighborhood. I walk in the early evening, or now, in the early morning, and lights are on inside the houses, lives spilling out along with voices and children's toys. I am so drawn to stare – to be a voyeur in not a creepy sense (well, it might be a little creepy, I guess), but in a vastly interested sense. I have to know what they do, what they think, what they're going to do next. If I had Harry Potter's cloak of invisibility I would stand in front of houses for hours on end. Totally. As it is, I'm trying to look like a normal person, not like a crazy writer (and there's SUCH a fine line, isn't there?), so I glance, walk, look up at the trees, and steal one more glance. On to the next house. This is the perfect time of year, too. People take more pride during the holiday months in the interior of their homes – they like to keep the curtains open to show off lights and trees. In February everyone's grumpy and sealed up tight.
And like Anju, I DO feel like their lives are much more interesting. They have dinner with stunning people from all over the world – they have wine cellars – they travel to places like Afghanistan – they wear only virgin cotton – they can do the Sunday NY Times crossword puzzle with ease – they make their own bagels – they can paint using their toes. And their problems ARE interesting because I'm only peripheral to them. Just passin' by.
Okay, now I can't wait for my walk. Walking and writing longhand again. Who knew? And here's a little Monday fun – my good friend Winter gazing raptly at me. Or maybe he's just perplexed. Who IS that strange woman with the camera?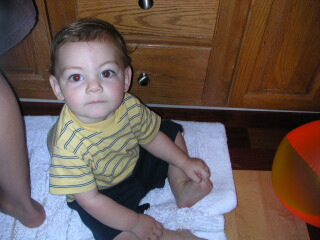 Get a Free Short Story!
Subscribe to get a free copy of Socks for Alex, a Cypress Hollow Short Story, compatible with all devices!