Had a lovely night last night, one of those unexpectedly graceful unplanned nights. Spent the afternoon and early evening in the City with my friend Rachel (no A) who had her appendix out on Monday. We watched a movie and I knitted while she tried to keep the cat (named Eleanor Roosevelt but goes by Cat) off her stomach. She has to sleep with an overturned laundry basket over her midsection to keep Cat off. Ooof. Rachel and her girlfriend Kira live at the end of the Avenues, a couple of blocks from Ocean Beach. Bethany used to live with them, and at night you can smell the bonfires. I love the fog there.
I left there without a real plan, having cancelled plans I thought I wouldn't make in time. I was just driving through the Avenues, thinking I might wander the San Francisco streets for fun (I need to learn more), when Brooke called me back. She talked me through a gorgeous drive to her house, up Seventh, around Laguna Honda hospital which in the gathering fog looked like a gothic insane asylum, down into Noe Valley….. Oh, here I am, dropping down (it's steeper than it looks in the picture)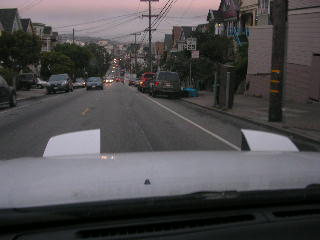 I adore the feeling of being in San Francisco, so much so that yesterday I had one insane moment of thinking: Should I move here? Oh, help! It's a thought I never believed I'd have. I'm an Oakland girl, stubbornly so. I love my side of the Bay, and it's just unnerving to actually HAVE feelings about the City. Most don't make the cross – there's a wide divide among people and the bridge is the wedge that keeps us apart, mentally and physically. Bethany was one of the few who made the cross; she was equally comfortable on either side even though she preferred to live in San Francisco. I'd like, someday, to feel as comfortable there as she did cruising the East Bay, thrift-store shopping with me.
Anyway, met Brooke for an awesome dinner at a tres-chic un-trendy trendy place called The Blue Plate. The cooks wore trucker ball caps. Our waitress had hot-rod flames on her black sweater and eyes that never met ours. But the food, steak and spinach, was great, and they served dollar Olympia beers in a can. With a glass.
Then out to the Wild Side West for more beer and some pity-poor pool playing, then did the spontaneous thing: Hey, there's a club and they're having *blank* tonight, wanna go? The blank is something that sounds like Robo-Girl but isn't. But I heard Robo-Girl and that stuck. Oh, maybe Rebel-Girl. But that's lame. Anyway.
So we went with two very fun gals to Not-Robo-Girl which, when we arrived, we agreed might be lesbian purgatory. We sat in the back and made catty comments which were completely awful and juvenile and very satisfying to make. The only girl who really talked to us at all was twenty-one and there with her lech of an older-guy-with-big-eyebrows boyfriend. He was annoying with his "let's take one home" attitude. She was going to be cute.
Then home and a good sleep. Who could ask for more? I have a day off today, back to work tomorrow, and my laundry is done, so I think I'll just hang out and knit. Watch TV. Read a little. Oh, here's how the Noro raglan is shaping up: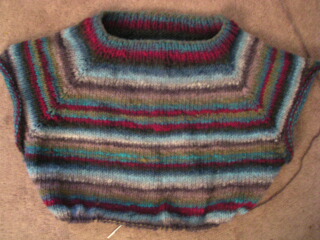 Innit a great color? It's in Kureyon #91.
Hope your Friday is mellow.
PS – Brooke has a new typepad website, here, and this shirt she's selling is hysterical. Christmas presents?
Get a Free Short Story!
Subscribe to get a free copy of Socks for Alex, a Cypress Hollow Short Story, compatible with all devices!