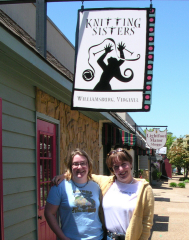 Damn, that takes a long time. I'm on dial-up in a hotel, and I'm sorry to say you'll be gettin' no more pics. This was a very cute yarn shop in Williamsburg, however.
Cari's comment about me surfing the blog-ring in person cracked me up. It's true, I've totally been doing that. But I wish I had MORE time. I want to hook up with Maryse and Amber in Boston and Christy in Philly and about ten others I can't remember. I swear I need another trip. Or y'all need to come out west. Yeah, I like that one. And Joanna, geography was never my strong point. Heh. Is it that obvious? I've seen a LOT of the east this last week…..
We drove today. We drove a LOT. We're in Delaware right now, and I can honestly say this is the first time for me. So far, no offense to Delawarians, but I'm not very impressed. Of course, we're on the interstate, and that's something I should remember. I'm sure Delaware isn't all Arbys and Exxons. We haven't even made it to Dover yet. We're in a smoking-room (sigh) Super 8 and Bathany's in the bath, as per usual.
Today we left Richmond and went deep into tobacco country. We actually saw tobacco growing, something I didn't even really know still occurred. Isn't that stupid? Maggi said something humorous about us being so easily awed, but really, I am. I don't know anything about these areas, and they're so new and exciting! And the brick of the buildings is the most perfect red I've ever seen.
We went south to Jamestown and east over to Hampton and then up across the Chesapeake. I put my toes into the Chesapeake waters! And that's technically the Atlantic, so I killed two bodies of water with one foot. It was cool. And actually, pretty damn cold, too. We crossed on the Chesapeake Bay Bridge Tunnel, which is 17 MILES of bridge and tunnel, up and down. Friends, that's not a joy ride to me. Give me a nice easy plane ride. I hate tunnels. Especially deep ones where the traffic is oncoming, and there's a person who slows suddenly coming at you in the other direction, and the traffic behind her has to brake so quickly that the semi four back is suddenly in your lane, and your sister is braking and doing an absolutely beautiful job fitting her little pickup truck body between the walls of the tunnel and semi's wheels, and you look in the rear-view mirror to see another big-rig barreling down, trying to brake to accommodate your sister's necessary slow-down.
I was so shaken I cried. Bethany was reassuring and cool, and I loved her. She said, "I knew I could handle my truck and that I would do the best I could do, and the rest wasn't up to me." She rocks.
After that little three second scare, the rest of the day was charmed. We drove north from the bridge, all the way up Virginia's east shore. We left the regular small road and drove up the unlined road that went through old fields and past houses that haven't been rebuilt after falling down and just rest there, in the middle of their overgrown trees, brick and wood sagging into the greenery. We saw almost no one else all the way up. At one point, we looked right and a little old lady was sitting on the tailgate of a pickup truck, swinging her legs, her hair in a pink net. She waved. We waved back.
We went out to Chinkateague and saw the lighthouse and the NASA station. We tuned to their AM station and listened to their public service announcements about "Puppets in Space." We ate a lot of Zingers bought in a rest-stop where they sold fruit and tee-shirts with pirates on them. (Shhh. I bought Bethany one.)
Tomorrow we're booking up to Rhode Island and Providence. We're realizing that we have almost no time left, and we really want to see Nantucket. Man, remember Wings? I loved that show. Can't wait.
Get a Free Short Story!
Subscribe to get a free copy of Socks for Alex, a Cypress Hollow Short Story, compatible with all devices!