Sometimes I forget to tell you the obvious. I'm a writer. I write books. You might like them! If that's the case, check out this sweet bribe:
The Darling Songbirds, my new romance which I'm super excited about (funny, sweet, small-town singing sisters, long estranged, coming back to town), is available for preorder right NOW (it comes out in a week!).
If you preorder a copy, you'll be entered into a drawing for a chance at winning a signed advance reader's copy of The Ones Who Matter Most (a whole month early!)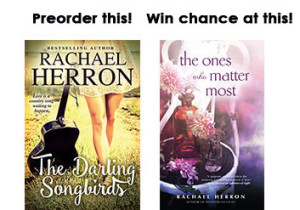 The Darling Songbird buy links: 
Amazon | Kobo | iBooks | B&N | Google | Austr/NZ
I honestly think that if you like my other romances, you'll love this one (and it's the start of a new trilogy!)
ALSO – Early reviews of The Ones Who Matter Most are so awesome, you guys!
Library Journal gave it a Spring Editor's Pick (!! ALONG WITH HAMILTON, YO !!) and said, "Abby and Fern are strong women, fiercely so, and they never fail to surprise and challenge each other and reader's expectations." And RT Book Reviews says, "A heartfelt and honest novel about love, loss, and the true meaning of family. This thoughtful, beautiful novel leaves readers with a sense of peace long after the last page is read." 
A sense of peace! Fierce women! DUDE. Those are my favorite things!
Just leave a comment saying you've preordered The Darling Songbirds (buy links above), or drop me an email saying you did. I'll draw a winner on March 2nd and I'll put the ARC in the mail that day.
You REALLY want a signed ARC?
I'm giving a total of four away, and here are the other three ways for you to enter (I'll mail them all on March 2nd) – Retweet THIS.  Share  THIS FB POST.  Tag a friend on THIS INSTAGRAM.
Get a Free Short Story!
Subscribe to get a free copy of Socks for Alex, a Cypress Hollow Short Story, compatible with all devices!