Had a wonderful time with the little mama yesterday, doctor's appointment notwithstanding. We arrived (really) early in Palo Alto – neither of us had (accurate) directions to Stanford, and we wanted to be sure we'd make it on time. It ain't like we'd never been there before, but neither of us are outrageously terrific with following our noses, so we gave ourselves a big head-start. A BIG one. So we had about two hours for lunch. We sat at a sidewalk table at a little Mediterranean place in the heart of downtown, ate our wraps, and watched the people go by. I hadn't seen that many twin-sets in one place, ever. Or Manolo Blahniks, for that matter. And everyone was talking on their hanging-cord hands-free cell phones (I have to admit a great passion for those – I don't have one, but I believe they've brought back singing in the car. I used to be regularly paced by other cars who were watching me and laughing while I sung my heart out to whatever was in my stereo. Now they see my lips moving and both hands on the wheel and assume I'm just on my hands-free device. Unless, of course, I've got my head whipping around and my hands beating on the steering wheel. Oh, well. It could be a really good conversation).
So we watched the uber-yuppies and ate ice-cream and book-shopped and finally made it to her appointment. In the waiting room, I worked on my secret project, which the reception staff noticed. I was then forced (FORCED, I tell you) to do a mini-fashion show, showing off my LoTech sweat and my Regia socks while they brought more staff out of the back offices to see. We bonded, waving happily goodbye when they gave me the little moms back to take home. Then Mom and Christy and I went to sushi, more book-shopping, followed by a movie (Mambo Italiano, delightful). Wait. I think WE'RE the uber-yuppies…..
Oh, I CAN tell you this about my knitting – this is what I'm starting soon, for a friend-of-a-friend's baby.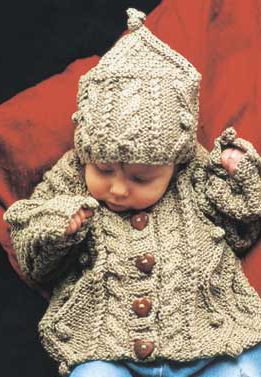 Isn't it wonderful? Mission Falls Wee Knits, the one called Sam. One of the reasons I'm so excited about doing it is because I can't really tell what it looks like. Actually, it's hard to tell what ANY of their sweaters really look like, since the babies they choose seem to be in that stage where they have no backbone yet and their fat tummies are scrunched all around the sweaters.
More fun with Mom today. Happy Friday!
Get a Free Short Story!
Subscribe to get a free copy of Socks for Alex, a Cypress Hollow Short Story, compatible with all devices!