That's the thing about being sick. I missed a night at work, but by doing so worked some serious OT on the Wave-Along, and I'm DONE! And it's HUGE!
And seriously, that Cascade Indulgence was some of the nicest fiber I've ever used, sooooo soft and whisper smooth and strong. It was really difficult to give it to Marama. But I did it, last night (after taking no less that eighty-two pictures of it. Not exaggerating. Difficult to get a good picture of dark grey yarn).
So here are some shots:
Just being finished on my lap, Adah helping the way she does best: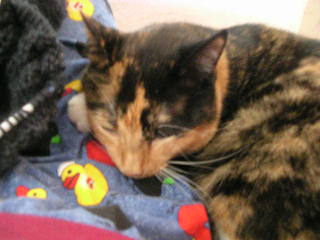 With Adah in the background for size reference (it's about 70 inches long by 30 inches wide, I added two extra repeats across for a total of 116 stitches, on size 9 US, 4 skeins of Indulgence).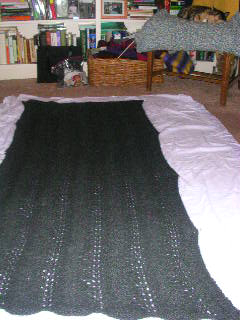 Folded up: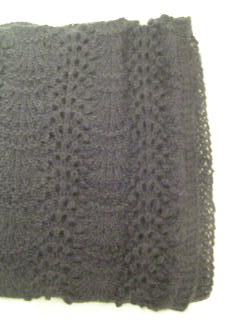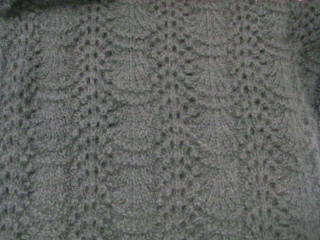 Wheee!
Oh! And the Wonderful Greta has finished her shawl, too! And hers has a great story behind its making. Whoo hoo! Anyone else? (remember, no deadline. Just whenever. That's the way we play this one):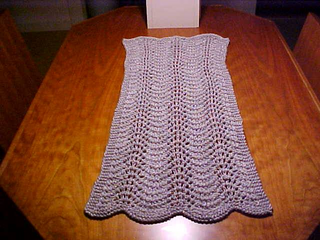 On a totally different subject, just to show you what happens in my brain when I'm sleepy, if you're reading quickly (and you miss the word TOXIC) and you read this:
Toxic Flame Retardant Found in Breast Milk
You think, how cool! Mother's milk really IS the best! Baby's extra-safe, flame retardant built right in.
I dreamed this morning of being in on a rollercoaster ride, a rickety old one that had no seat belts, and it went around the side of a mountain. To the right was the ocean which was at first beautiful and then turned rough. Really rough. The rollercoaster took us right under and through great towering waves of water, hundreds of feet over our heads. We made it (barely) to the end of the ride. Isn't this an odd dream for someone who feels pretty grounded right now? Other than changing shifts at work (which is weird but not life-transforming), I can't imagine why I would dream so vividly of two such worrisome images. Can't get more cliched than rollercoaster and wild waves, can you? Hmmmm.
[Oh, I just figured it out. It was the Wave-Along! Duh. What a ride!]
Get a Free Short Story!
Subscribe to get a free copy of Socks for Alex, a Cypress Hollow Short Story, compatible with all devices!