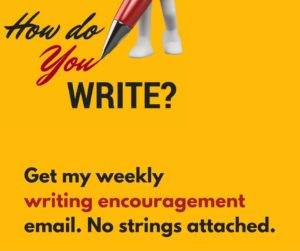 You'd like to write more.
I'd like to help.
Sign up for my FREE weekly email in which I encourage you to do the thing you want most in the world. You'll also get my Stop Stalling and Write PDF with helpful tips you can use now to get some writing done (free).

Need a Writing Coach or Editing?
Want a bit more help? From editing services to ongoing writing coaching, I can help. I've written eighteen books, I hold an MFA from Mills, and I regularly teach at Stanford and UC Berkeley in the writing extension programs. CLICK HERE to find out how I can be your personal writing coach or editor.
How Do You Write Podcast
My free weekly podcast, How Do You Write, is available on iTunes and Stitcher, or you can watch the episodes on YouTube or Facebook. It's the best stuff – all about how working writers actually get the work done. All the info HERE.
And don't miss my other fun podcast, cohosted with J. Thorn, The Petal to the Metal! We talk about living the dream job, with all the joy and pitfalls that entails.
Facebook Community
Join my Facebook writers group: ONWARD, WRITERS! It's a great place to come when you need encouragement or just a firm push in the right direction.
Struggling to Get Your Writing Done?
Sign up for my Stop Stalling and Write Your Book course! In it, I give gentle tips and a little tough love (which you might need!) to get your butt back in the writing chair. Everything you need to know (and reviews!) HERE. Or sign up to for one-on-one coaching!
Writing Retreats with Rachael
Be the first to know about my writing retreats, which sell out quickly. Sign up above!
VENICE SPRING 2018 NOW OPEN!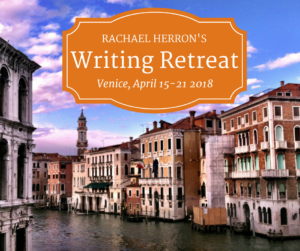 Do you long to find your core story, to get reinspired, to find your writing flame? Come write with me in Venice, and be transformed.