YAY! 
You totally know the secret now! To be honest, you know it before any of my other readers. I've been writing under the name Lila Ashe, and early 2016, I'll be bringing all those books over to my real name, Rachael Herron, in prep for a big new country-singing sisters series that I'm SO excited about. And yep, I'm still a fire/medical dispatcher, still working for a small northern California agency, and I still love BOTH my jobs, both the 911 and the writing.
But I write a LOT of books, and I want to give you one (the first taste is free, you know), just to thank you for making the switch to this new mailing list! It's the same heart-warming laugh-out-loud writing you got to know with Lila, only more of it!
Praise for Rachael's Work: 
"A heart-warming story of family, friendship and love in a town you'll never want to leave."
– Barbara Freethy, USA Today Bestselling Author
"A sweet comfort read, with an edge of humor and irony that strikes just the right note."
– Susan Wiggs, NYT Bestselling Author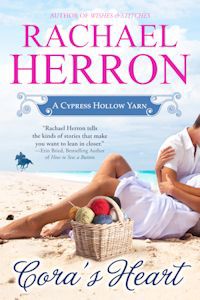 Right-click to download! See below. 
EASY LOADING DIRECTIONS:
Right-click (PCs) or ctrl-click (Macs) the book image to download linked file as PDF. Save to your computer. (Or if you want to read on your phone, click to open on your phone and start reading right away!)
Kindle: Go to Amazon on your computer. Then: Your Account, Manage Your Content and Devices, Your Devices. Find your Kindle device and grab that unique email. Send a blank email from your personal email to that Kindle email address, with the PDF attached. The book should magically show up on your device in the next 10 minutes or so. (More help here.)
iBooks: Use these easy instructions here.
Nook: Locate the PDF on your computer, turn Nook on, connect Nook by USB, locate My Documents on Nook, drag and drop the PDF to My Documents, then Check For New Content. More info here. 
Kobo: Instructions here.
Get a Free Short Story!
Subscribe to get a free copy of Socks for Alex, a Cypress Hollow Short Story, compatible with all devices!