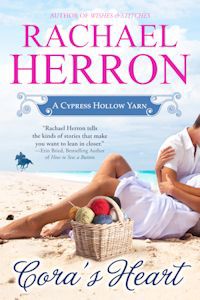 Hi! I'm #1 bestselling author Rachael Herron, and if you haven't already had the chance to read a book of mine, I'd love to give you that chance!
"The perfect book to curl up with, as warm and cozy as your favorite sweater." –Susan Wiggs,  New York Times Bestselling Author
4 Stars, "Intricate and clever," with "down-home sense." – Romantic Times
No strings attached. To get your free copy of Cora's Heart, just subscribe here (unsubscribe any time): 
Get a Free Short Story!
Subscribe to get a free copy of Socks for Alex, a Cypress Hollow Short Story, compatible with all devices!