Yeah, all right. So I went back to Stitches…. Sue me. You woulda, too. Right?
And I bought a BEE-YOO-TEE-FUL drop spindle and a bunch of Good Stuff. Hey! Good stuff is cheap! Compared to yarn, I mean. And I met a tremendously helpful woman at the booth (will attribute seller as soon as I remember who it was) who spent a good ten minutes with me, showing me slowly how to park and drag. Anything that involves parking is quite a thrill for me. This includes both my ass and my car (just did the best parking job ever a few minutes ago — so good that I had to take a picture, I'll show you that the next time I dowload pics).
And this part was way cool — I was crossing the Market floor, missing my blog buddies, wishing that I had someone with me to drool over things, to tell me I wasn't crazy for buying puffy pre-yarn wool, and a woman walked past me, then stopped and kinda doubled back. She said, "Are you Rachael? You don't know me but…." She was a reader! How thrilled was I? And even MORE thrilled when she introduced her girlfriend (who is not a blog-reader and was obviously kerflummoxed as to what was going on) and said that they had met on Planet Out. My immediate knee-blog-jerk response was to stammer rather stupidly, "Can I get a picture?"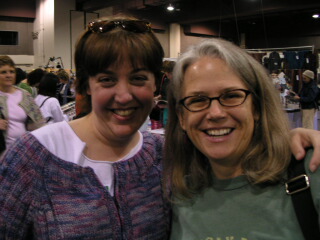 Meet Laine. Hi, Laine! (And Marie from comments yesterday, yep, that was me at the spindles! Hee.) Yes, I'm wearing darling Greta's Fred. She had left him in my care when she decided she wouldn't need him for a while, and I thought she deserved a piece of herself at Stitches.
And when I got to (old) home, look what I found: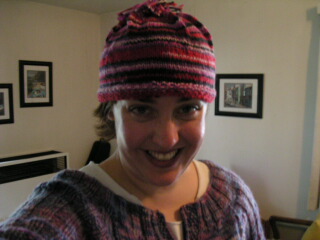 It's from JoFrog as part of a valentiney gift exchange, and the best part is she made it big enough for my huge head! I love it!
Still miles more to do in the packing/unpacking/cleaning area. Sigh. I still hate this part. But I've had so much fun this weekend that I'm well fortified for it. And Sex and the City was great last night, no? I cried. Did you?
Get a Free Short Story!
Subscribe to get a free copy of Socks for Alex, a Cypress Hollow Short Story, compatible with all devices!