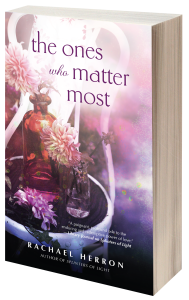 CHAPTER ONE 
Abby Roberts tucked a sachet of allspice and thyme—for healing and courage—into her jeans pocket and mouthed again the words she'd thought she'd never say to her husband.
She'd practiced them all day. "I want a divorce," Abby had whispered to the overwintering kale, her knuckles darkened with dirt. "It's not you, it's me," she tried on the bag of bone meal. Poking her fingers into the ground around the baby broccoli starts, she said, "No, wait. This is about you. How dare you?"
Divorce.
Unthinkable.
Not that she was against for it for others, of course. There were seasons where divorce seemed to be contagious, roaring through couples they knew like wildfire, burning up carefully decorated homes and meticulously wrought childcare plans. And even though it was commonplace, the word was always a shock of ice water to the face. No one was ever casual about that kind of gossip. "The Quinceys are getting divorced? Well, they never seemed to be that happy. Want to get a coffee?" No, the response was always abject horror. "You're kidding. I can't believe it." Seventy years after feminism made divorce something that could be both borne and afforded, it was still mentioned in a dropped voice, with a moment of silence, an invisible crossing of the body, a warding off.
The fact that Abby needed a divorce was flattening. She was a bruised pansy, pressed between the pages of a book she never thought she would have to read.
Scott's truck pulled into the driveway. His quick footfall came up the porch steps. The door opened—he was often late, but he was always cheerful and apologetic. "Look! Yellow roses! It's not Valentine's Day yet, but I thought I'd surprise you early."
Had he felt her anger across town? While he was rounding up his gardening crew, buying his latte, settling in at the office, and putting his dirt-worn fingers on the Mac keyboard, had he somehow known, what the doctor had told her? Had he thought then of buying her flowers?
No. They'd never had that kind of connection. So many other kinds of connection, yes. Humor, sex, fun. But he'd never been able to read her mind.
"Thank you." Ten years together—she was thirty-six, how the hell had that happened so quickly?—and he'd never seemed to remember that she didn't like roses. She loved their hips, for their myriad uses, but not the flowers themselves. "I want a divorce." Her voice was loud. Too loud.
Scott froze, one arm out of his jacket, one arm still in. His face went carefully blank, as if she were a difficult client, one who wanted the newly laid sod ripped out and Astroturf put in. "Sorry?"
It was exponentially harder to say it a second time. "I want a divorce."
There was a stillness after that, a muting of the sounds that usually traveled through their big old house. She couldn't hear the whirring of the ceiling fan or the rumble of traffic that drifted down from Solano Avenue. The house was as numb as Abby.
Scott squinted at her. His mouth moved strangely, twisting sideways.
She wanted to reach forward and take her words back. I was kidding. Never mind. Bad joke, I'm sorry.
But she didn't.
Scott finished taking off his jacket and hung it on the coat-tree. The knot in Abby's throat moved up until her jaw was clenched so tightly she wondered if she would break a tooth waiting for him to say something.
"Honey," he finally said. "What?"
"I want a divorce."
His face was red. "No."
Fear bit at her hands, gnawing at the last bit of bravery she had clinging to her fingers. "Yes." She wouldn't tell him why. Not now. He deserved to sweat. To hurt.
Scott walked out of the living room and into the hall bathroom. He shut the door gently behind him. The exit was his statement, and Abby had no idea what to do next. She'd spent hours trying to predict which way tonight would go, but she hadn't ever wondered what she would do if he left the room altogether.
She stood in the hallway, leaning against the wall. She listened to her husband—the man who would soon be her ex-husband—urinate. He would make sure not to drip, as usual. He'd put the seat down afterward, because he'd always been considerate that way.
Then there was a crash.
Had he thrown the framed picture of Vernazza? Scott wasn't a thrower when he was mad, but Abby didn't know what else it could be—the sound was loud enough that it traveled under the door and through the hardwood, up into the soles of her bare feet, into her knees, through her empty stomach, traveling to her chest, where the sound waves battered her heart.
Or—had he fallen? That wasn't that likely, though. You didn't just trip in your own bathroom, did you? But Abby froze at the thought, terrified into solid ice. She was glaciate, the frost in her blood too thick to allow motion. Instead, she listened as hard as she could for any sound at all.
There was nothing.
Bastard. Was he messing with her? Again?
She pressed her ear to the door.
Still nothing.
She knocked. "Scott?"
The house, all of it, was silent. The only thing Abby could hear was her own heart, pounding and tripping over itself.
She smelled lemon balm, sharp and pungent, and only then did her brain finally—finally—allow her feet to move, her hands to hit at the door, beat at it (why had he locked it? who did that in their own home?). Eventually, at the urging of the 911 dispatcher, she knocked the door open with her shoulder.
He was on the floor, his red face now green-gray. His eyes opened and closed slowly. He looked vaguely pleased to see her. "Scott." She scrabbled at his arm, which was twisted under his body at an awful angle—he must have broken it as he fell, as he partially wedged himself between the toilet and the sink. "Scott, get up." She tugged at his shirt, patting at his face, scrubbing his skin with the tips of her fingers as if she could bring the redness back. There was no anger in his eyes, none at all. There was no fear. He only gazed at her, blinking with an interested look of confusion.
Then he closed his eyes. For good.
                      Scott's been hiding a secret, one that will change Abby's life forever. 
Get a Free Short Story!
Subscribe to get a free copy of Socks for Alex, a Cypress Hollow Short Story, compatible with all devices!