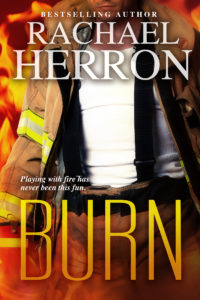 From international bestseller Rachael Herron, comes a book too delightful to put down:  
Lexie Tindall knows a few things about herself. She's a great fire dispatcher. She looks good in cowboy boots. And she'll never date a firefighter. They're her family, and besides that, she knows from deep personal experience how it feels to lose a man on the fireline. But Coin is different. He's her best friend. Why, then, can't she stop thinking about what it would be like to kiss the handsome firefighter?
Coin Keefe has been in love with Lexie since he first met her in dispatch when he was still a rookie. Now he realizes he can tell her everything except the truth–that he can't think about anyone else.
When Lexie and Coin make a bet on love with a tropical island vacation as a reward, who will win big and who will lose everything?
Rachael Herron seamlessly blends romance, friendship, and laughter. Barbara Bretton, USA Today Bestselling Author
This heartwarming, hilarious, and red-hot contemporary romance will leave you wishing for a marina view — and a hot fireman — of your very own. For a good time, pack this beach read on your vacation!
Relationships are at the heart of women's fiction, and Herron could teach a master class on creating them. Chicklit Central
CLICK TO BUY NOW!
Get a Free Short Story!
Subscribe to get a free copy of Socks for Alex, a Cypress Hollow Short Story, compatible with all devices!