"When life unravels there's always a way to knit it back together again, many times into something even better. Honest, funny, and full of warmth, Herron's tales, each inspired by something she knit or something knit for her, will speak to anyone who has ever picked up a pair of needles. From her very first sweater (a hilarious disaster, to say the least) to the yellow afghan that caused a breakup (and, ultimately, a breakthrough), every piece has a moving story behind it. This beautifully crafted and candid collection is perfect for the knitter who loves to read and the reader who loves to knit." – Amazon.com
CLICK TO BUY:
Amazon, Powells, or Barnes & Noble or iBooks
REVIEWS:
"Herron, who is young…enough to sit in bars and knit socks without looking like a nut, turns in honest, well-considered appraisals of choices she's made, turns she's taken, and people she's known." Publishers Weekly
"Insightfully genius, and softly revealing, Stitches makes me grateful that Rachael Herron put down her needles long enough to pick up a pen." — NYT Bestselling Author Josh Kilmer-Purcell, author ofThe Bucolic Life
"Rachael Herron tells the kinds of stories that make you want to lean in closer. Even though I'm a lousy knitter with only a few crooked scarves to my name, I was captivated, delighted and touched by every chapter."—Erin Bried, author of How to Sew a Button: And Other Handy Things Your Grandmother Knew
"It's an honest, fascinating, warm-hug of a memoir." – Amy Singer, Knitty.com
"After reading her moving collection of linked essays, I'm inspired to be as bold and as generous as the knitters in her life." – Catherine Friend, Sheepish: Two Women, Fifty Sheep and Enough Wool to Save the Planet
"Herron is smart, charming and a gifted storyteller. This memoir-in-essays
will speak to any woman who has ever faced a personal crisis with knitting
needles, yarn and a pile of new sock patterns." –Laurie Perry,  Drunk, Divorced & Covered in Cat Hair
"A Life in Stitches like an afternoon with a friend, one who understands that we track the events in our lives by the yarns we've worked with rather than by the calendar." – Adrienne Martini, Sweater Quest
In Australia and NZ, you can find it HERE: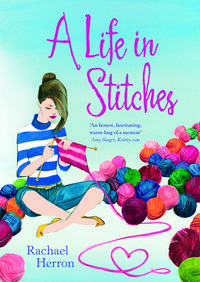 From HarperCollins Australia
Get a Free Short Story!
Subscribe to get a free copy of Socks for Alex, a Cypress Hollow Short Story, compatible with all devices!