First of all, let me answer a couple of people before they come a-knocking – the Noro raglan took about eight skeins. Maybe a little less, but let's call it eight and the small size is pretty darn safe. Or call it ten and make a little Booga J bag out of the leftovers…..
And oo-la-la. This one makes me want to sing. It's Sunday morning. Shawl we? I know we've seen it before, but let's see it again: It's Marcy's and it's fabulous.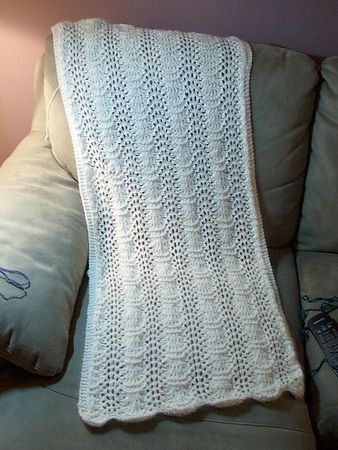 I think the "draped over a chair" theme has to stick. Go check out her hair, too. Cute as a bug. That's what I want MY hair to look like.
So I've done a little housekeeping. A little Italian upkeep – to the left are my Italy emails from the last three trips. The first was when I went alone to Venice for a week and then met a couple of friends for the grand tour. The second was Mama and me, two months after September 11th. The third is the latest one (prolly the most fun to read, since I was alone for the whole trip). They're not for the faint of heart. Read only if you're 1) deeply in love with Italy or 2) want to be. They're saccharine love notes, I know. The only way to go.
What's cool about them, though, is that they're also posted on my old site. Every once in a while I get random notes from strangers asking where to stay and what to do, especially in Venice. Recently I got this question from a woman in Britain looking for cheap digs for her family. I gave her some pointers and info on my favorite hotel, Hotel Bernardi-Semenzato. I just got this fantastic note and picture from her (reprinted with her permission, of course):
Hi Rachael

…. I just wanted to say a HUMUNGOUS thank you. We have just returned
from an utterly fantastic two days in wonderful Venice and your
recommendation came up trumps. They gave us a whole suite
(two bedrooms, bathroom, hallway) in the annex with views
over the canal – must be the room they've
taken their picture from for the front of the brochure/website.

We took advantage of the ridiculously cheap 'city break' flights that
operate from our local airport. We departed Monday evening and had all
day Tuesday and all day Wednesday in Venice, leaving late Wed. evening
for flight home. We managed to see alot and do alot (Basilica,
Campanile, Acadamia, Guggenheim, water taxi, gondola, ice cream, cake,
bread, pizza, several other churches, human sculpture man and amazing
guy from Russia playing 'glasses') and actually felt like we'd been
away for at least a week. I think we broke some sort of record when all
7 of us piled into a gondola!

Have you ever been over to the glass factories on Murano? Seeing glass
being blown was something we thought would be good to do with the kids
but hadn't appreciated that it all happened on a different island and
we weren't sure whether we'd have enough time. In retrospect, had we
known exactly where we were heading and what times they were open to
the public, we could have fitted it in. Spotted at least a couple of
gorgeous yarn shops and all those beautiful beads!!!!!!!

I was going to attach a picture of us all enjoying ourselves but there
isn't one with us all on in the ones I've downloaded, so I'll have to
wait until I get film developed. Meanwhile here is an interesting shot
looking up the Campanile with some of the children's feet in the
foreground!!

Lots of love and many thanks again –
Jane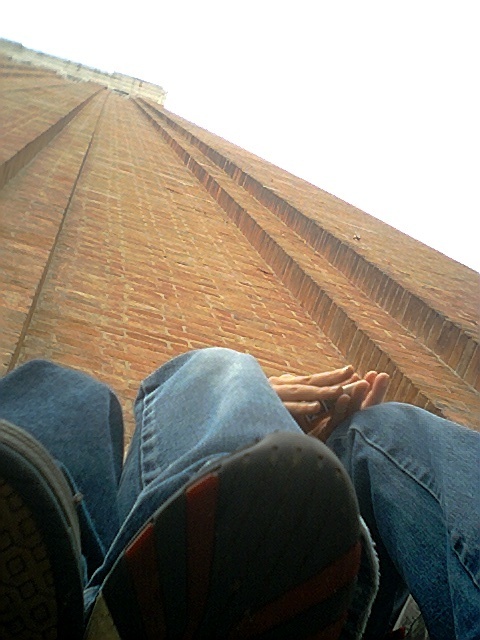 Isn't that the coolest? Makes me SOOO happy to help people with Italy questions or dreams, 'specially the city of my heart.
Happy Sunday!
Get a Free Short Story!
Subscribe to get a free copy of Socks for Alex, a Cypress Hollow Short Story, compatible with all devices!