Welcome to my new home! Have a cup of tea? Or you want some wine, like me? Okay. Sit down. Lemme show ya.
This is how I moved. One carload at a time, one hand holding the shit in the car, the other on the wheel. At one point it started pouring and my cell phone rang at the same time. (I didn't answer, duh.) But I thought to myself, what the eff am I doing?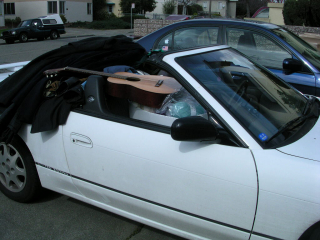 But it was worth it:
My kitchen, with its red walls. Those are some cold tiles, but I tell you, paint comes right OFF those suckers.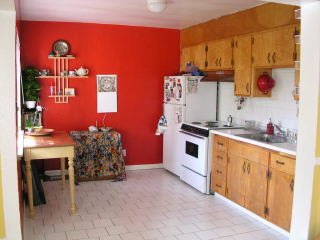 Standing in the kitchen looking into the living area. There's seating behind the low bookcases and that table is only a temporary solution. LauraJune is giving me her old table, yippeeee! That orange thing is the beanbag Greta and I found at the Wonder Longs: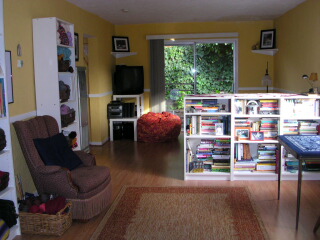 The below is also a temporary solution. Another good friend is donating his couch to the Rachael Cause, and then I'm going to slipcover them both in another shade of Venetian red (note the Ikea table):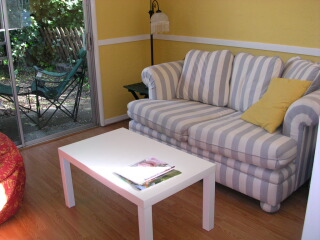 Now turn around, and look back toward the kitchen. These bookcases will get filled up attractively at some point. And the larger couch will run along it, too, leaving the bottom shelves as hidden storage! That was clever Christy's idea. And the log-cabin is an old quilt top I made and never sewed INTO an actual quilt. Apparently it was waiting for me to move into this place to be used as a runner.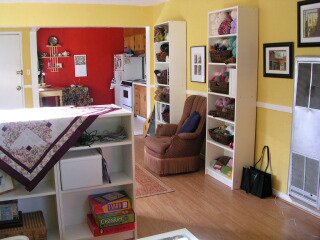 But I know this is what you've been waiting for. May I present the yarn center? (The yarn fills BOTH bookcases.)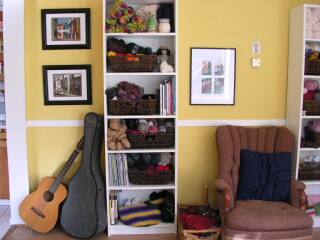 And a close up: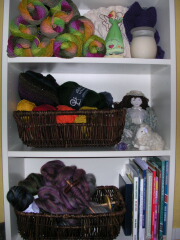 That's not only Noro Kureyon from the Boys, but my first attempt at spinning below it, in the purple. Don't look too closely. I LOVE having so much yarn visible in my house.
And part of the bedroom here. A place in the open for the sweaters, and an old chair (aka cat seat) that I love.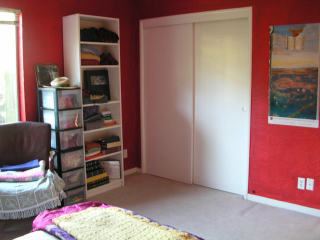 Back in the living room, I have to show you what's outside the side window. This thing is under the outside light, and at night it simply glows. I adore it. This is George: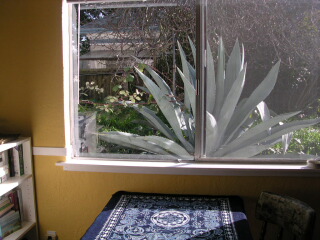 Bought myself an orchid for the kitchen. How do you keep these alive?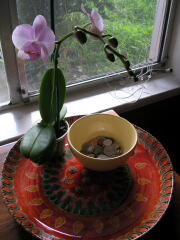 All the art on my walls, with the exception of the Venice map in the bedroom, is my own (mostly prints of Italian photos). But this is one of my most prized possessions. Mom commissioned a friend of ours to paint this for me from a photo I took a few years ago. Even now I like to go back to Venice and look at the red boat (it's always parked in this same spot at night….):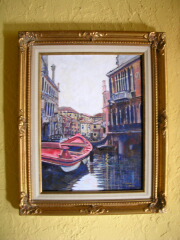 All right, that's enough. But I HAD to show you what I've been up to. Now I can focus on Cromarty again….
Thanks, darlings, for visiting me!
*oh, and I just got hit by someone in Denmark searching for "glass you silly ass glass." ???
Get a Free Short Story!
Subscribe to get a free copy of Socks for Alex, a Cypress Hollow Short Story, compatible with all devices!