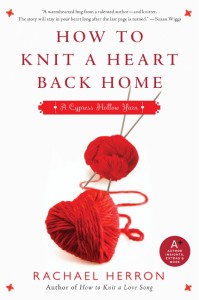 Lucy Harrison sells books by day and volunteers with the Cypress Hollow fire department by night. Her life is just the way she likes it—full, even-keeled, and smooth—until bad-boy ex-cop Owen Bancroft comes back to town. Lucy has always been fearless, never scared about diving in to help others. When it comes to risking her heart, however, she realizes she's absolutely terrified.
In a small town like Cypress Hollow, everyone knows your business—and there is nowhere to hide. Then Lucy and Owen are thrown together by the discovery of the lost work of local legend, knitting guru Eliza Carpenter. Now Owen, adrift and struggling to redefine himself as a civilian without a badge, will have to learn how to open himself up to life's new possibilities . . . while Lucy decides just how much of herself she's willing to gamble on love.
 CLICK TO BUY:
Amazon
iBooks
Barnes and Noble
Indiebound
Powells
and in audiobook form: Audible.com and iTunes
REVIEWS:
"In her engaging sequel to How To Knit a Love Song, Herron revisits the community of Cypress Hollow and its familiar faces as well as new characters who are as entertaining as they are complicated…Herron's second novel will earn her a well-deserved place in the ever-expanding knit-chick lit genre." – Library Journal
"Herron's sweet, comforting tale comes with a built-in surprise: the knitted pattern to Ruby's Bookstore Sweater included in the back." – Publishers Weekly
"With its realistically eccentric characters and quietly humorous writing, How to Knit a Heart Back Home is completely captivating." – Chicago Tribune
"A heart-warming story of family, friendship and love in a town you'll never want to leave." – Barbara Freethy, USA Today Bestselling Author
"A seamless blend of romance, friendship, and laughter that will keep you turning the pages." – Barbara Bretton, USA Today Bestselling Author
"A sweet comfort read, with an edge of humor and irony that strikes just the right note." – Susan Wiggs, NYT Bestselling Author
Four Stars – Romantic Times
In Australia and NZ, you can find it as Lucy's Kiss: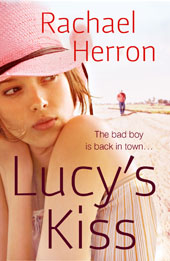 from Random House Australia
Get a Free Short Story!
Subscribe to get a free copy of Socks for Alex, a Cypress Hollow Short Story, compatible with all devices!