A lot of writing today to make up for the fact I won't have time tomorrow:
Having a hard time getting my ass in gear to write this weekend. Not this blog, not the morning pages, those I don't struggle with. But the other writing (I hate to call it the "real" writing – let's use "other" instead), that's what I'm fighting with. Not even fighting. It's more like a cold war.
If I write all my pages during my four-day work week, then I give myself the weekend off. It's the only method that consistently works for me. I like it. But when I DON'T write all my pages I promise myself I'll write on my weekend. Have I? No. Is this my Sunday? Yep. Back to work tomorrow.
Which means I HAVE to write today. (Well, there's no have to about it. But I want to. I wouldbe happier if I got my work done.) Which means I have to trick some goblins.
It's all about tricking or treating them, innit? I can trick them – can tell myself I'm going to write something, anything, and it's going to be a shitty first draft (a la Lamott), and then I write fast and loose before they know what's happening. Before they round up the censoring troops, I'm done with the work for the day.
Or I can treat them, but I find this less effective. I'll tell myself, If you write, you get to go to the matinee. Then I don't write, feel crappy about it, and cheer myself up by going to the matinee.
So really, for me, it's all about tricking them and sending them out for smokes (and NO, I'm not bumming them when they get back). I send them out the long way and tell them to go to the store seventeen miles away 'cause it's the only store where they won't get funny looks with their forehead tattoos that read CENSOR and THAT'S NO GOOD and NO ONE CARES. I tell them when they get back they can chip away at me to their hearts' content. By the time their jalopy rolls up, thumping that goblin bass, I'm done writing and I thumb my nose. And I don't have a light for them either.
Speaking of olallieberry jam, I bought the BEST jam after I left Duarte's the other day at a little country produce stand call Phipps Country Store and Farm. Get this: they mail order their jam. They're only $4 a jar (and don't wimp out and get the Strawberry-Olallieberry mix, that's boring – You'll LOVE the olallieberry, I swear. It's like raspberry but sweeter and finer tasting). I swear I'm not getting a cut of this – I just think it's fantastic.
Went out last night with a couple of friends who actually left the City and came to see ME! Rachel and Kira are a great couple who used to live with Bethany before she went on walk-about. Beth and Rachel met while they were freshmen in college. Rachel came out in maybe her sophomore year? Junior? Can't remember. We actually threw her a Coming Out party with rainbow streamers and Tinky Winky on top of her rainbow cake (it was during that whole Falwell nonsense). Rachel and Kira have been together now for years, and they're an awesome couple to hang out with. For some unknown, inexplicable reason, they've decided to adopt me. I've said it before, I know that I'm their token over-30-and-still-got-it lesbian friend. That's the only thing I can chalk it up to.
Kira's a mad knitter. She's the store manager of Artfibers and get this: Every two weeks she gets fifty bucks worth of yarn since she's encouraged to make everything she wears to work. Uh huh. Life's rough. Last night she was actually complaining that she can't ever leave the job or she'd have too high a yarn bill. Welcome to our lives, huh?
We went to dinner at Soi 4, one of those trendy minimalist Thai places where the lighting hung from strings and the host station held burning votives and bamboo plants. We sat and ate and drank beer and talked about how insufferable anything south of Santa Maria is – how Santa Barbara is just a horrible little LA suburb, how we can't stand the plastic-ness, the cell-phone and collagen-ness of it all. Then my cell phone vibrated in my pocket and I looked around at the people draped gracefully in their hip recycled-wood chairs. A meta-trend minute. We tried to get over ourselves. Then we finished our beer.
We were going to see Thirteen, the new Holly Hunter movie. But Kira had the brilliant idea of renting a movie so we could buy a six-pack and knit. Gotta love that. We picked up Whale Rider which neither of them had seen. I think maybe it's been a while since I had official company. It was nice to have more than one knitter in my living room (although I think we freaked Rach out a little – Kira and I spent a lot of time discussing the use of fiber in the movie sweaters).
Here's Kira with Adah (yes, she made her sweater).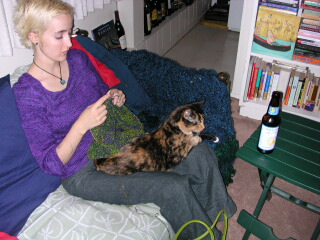 And Rachel, after I told them both to smile.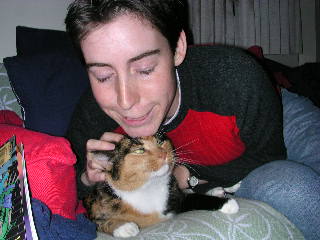 A nice night.
Oh, since I'm TOTALLY rambling – I just have to mention one thing about the ocular migraines – I got the first one last Thursday morning while curling my eyelashes. One minute I could see what I was doing, the next I was almost blind. For a while I TOTALLY thought I had curled my lashes wrong. Really wrong.
Get a Free Short Story!
Subscribe to get a free copy of Socks for Alex, a Cypress Hollow Short Story, compatible with all devices!