Since a few of you expressed interest in my ride down the coast, I thought we'd go on a spin together, okay? It's a virtual ride, so we save gas this way (as opposed to driving to Brooklyn and then Taipei, as was suggested).
Hop in and buckle up! (I've got good tires, don't worry.)
The day starts with an attempt at modeling the finished Noro Raglan with the buttons finally attached. Digit gets in the way and the show is brought to an abrupt halt.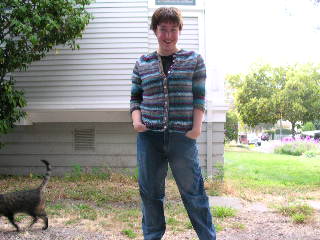 After several false starts (the bank, the gas station), the top goes down and we drive over the Bay Bridge. The fog is thick, but it's not cold. Just the right weather for a three-quarter length sleeved sweater, dontcha think?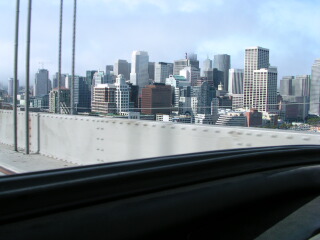 While conversing on the cell phone (I'm sorry, I know it's rude while you're in the car, not to mention dangerous), we miss the exit. Whoops. Now we're lost. Note my "I'm LOST!" face.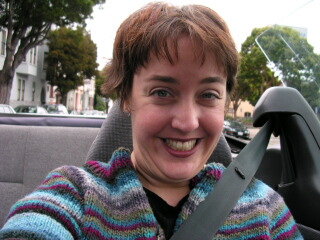 Okay, we figured it out. Feeling proud of ourselves, we cut through Golden Gate Park, heading west toward Ocean Beach on Fell St.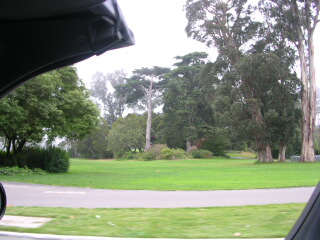 We turn left when the street hits the edge of the continent and pull over to take a couple of snaps. It's a gorgeous day, and our bird-like friends know it.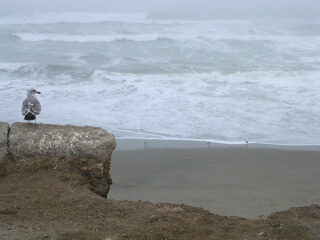 It's a good thing you're here to take pictures of me! Goodness knows I hate doing it for myself…..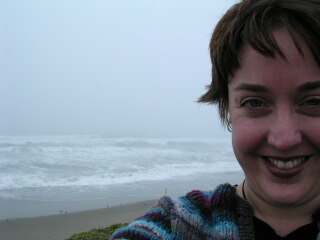 Okay, now we're a little scared. Well, we don't admit until later over lunch, but we're terrified. We have a hard time keeping the rear end of the car in front of us in view in this soup. The headlights aren't working the way we'd like them to – they just reflect the glare of the fog back at us. Devil's Slide is horrifyingly scary, but in that gonna-get-through-it kind of way. Good thing my tires are so great or I'd turn around right now. This was the best of it: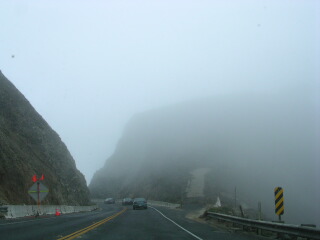 Coming down into Montara, the sun breaks through for just a minute. Isn't this wonderful?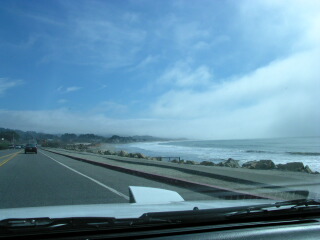 Put your sunglasses on – the glare is something else.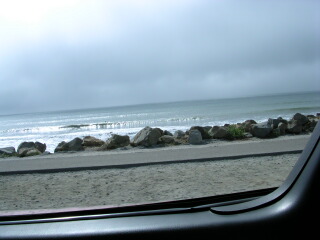 In Half Moon Bay, damn it all, we fall right into Fengari, a fiber paradise. I hate it when that happens.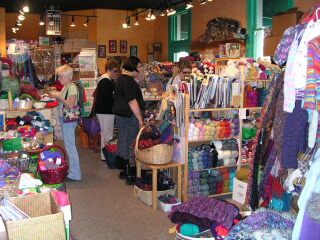 A wall of Noro…..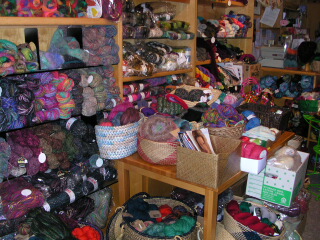 And a wall of fog, just waiting for us, clinging to the water's edge.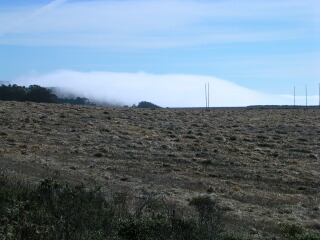 But while the fog is to our right as we drive south, this is to our left.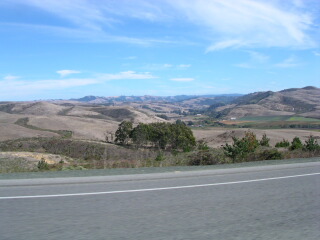 We pull over here, and it looks like we're the only ones!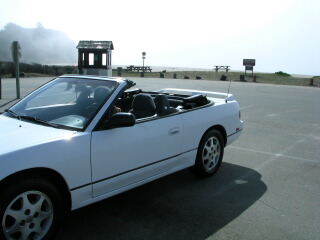 Ain't it gorjess?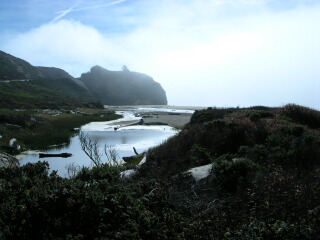 Take off your shoes – let's walk down to the water. You can't come to the beach and not put at least your fingertips in. It's a strict rule.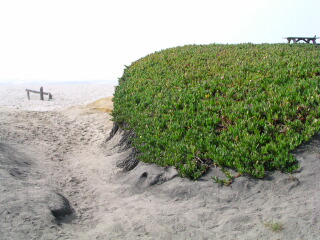 It's just a leetle too rough to swim. Of course, if you weren't here, I'd probably barrel in and swim a couple of miles. Yeah, 'cause that's what I ALWAYS do in frigid rough water. I don't want to embarrass you, though. Uh huh.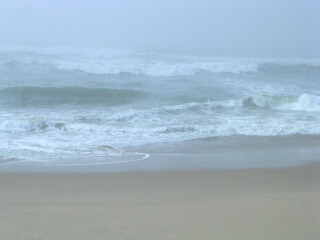 The fog is still clinging down here.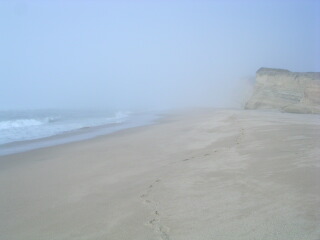 Oh, stop it already! Don't you know I'm shy?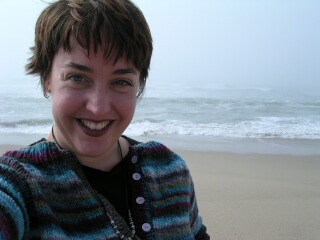 All right, pile back in, and I'll drive us to the real reason we've come so far. Duarte's, in Pescadero. But to really seem dialed in, do pronounce it correctly: DOO-erts. No lie.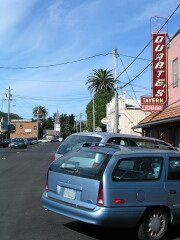 You get whatever you want, I know I'm getting the crab sandwich and a pint of Newcastle. We watch the British trio in the corner fight with their mussels.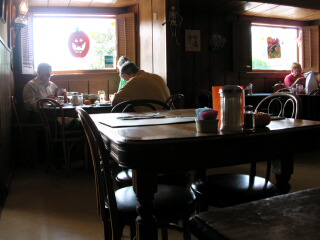 But when they start discussing what to have for dessert, I can't help it. I get up, go over, and say, "I hate to intrude, but you have to have the olallieberry pie."
Gent One says, "What a laleelaleebrie?"
"Genetically, it's a blackberry crossed with a…. raspberry? Boysenberry? I can't remember."
Gent Two is horrified, "A poisonberry??"
"Boysen, boysen…. Don't worry about it, just get it."
"Cheers, then. We will."
Here's my piece. Don't worry, I'll share.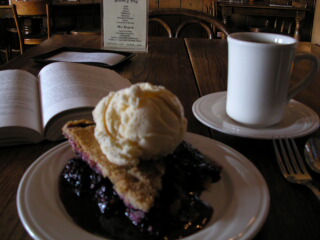 We hated it, I gather. (So did the Brits, by the look of their demolished plates.)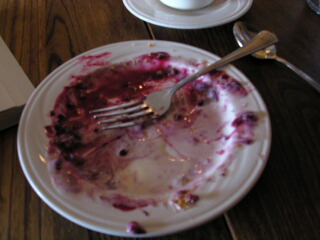 We take the long way inland. This is what the road looks like.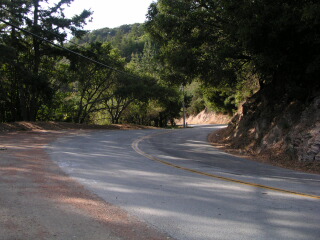 And this is what I look like, after a beer, some crab, a coffee and a piece of the best pie in entire universe (and I don't even care for pie):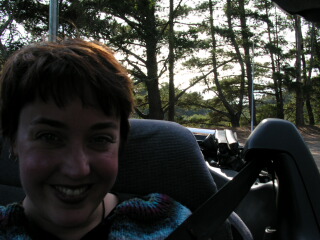 You can't miss gawking at the Pink Flamingo house above the river.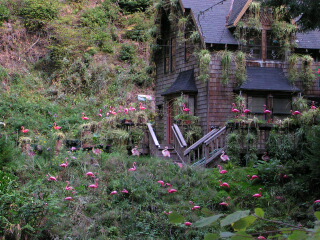 I know. It's horrible, isn't it? We have to rejoin society. But at least it's a crystal-clear day inland, and out here from the San Mateo mid-span, we can see the City, Oakland, some of Berkeley, and south past the Dumbarton. A jet flies so low over the convertible that we duck and pretend that we didn't.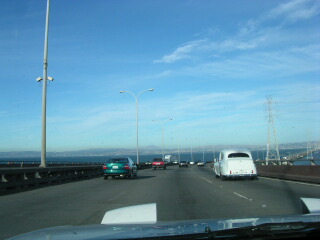 Back in Oakland, headed under the Maze. Seven levels, we'll be right at the bottom of the stack. Pray there's no earthquake.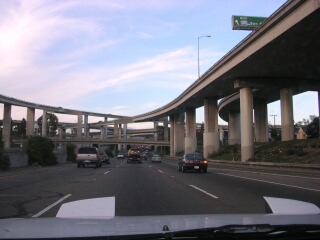 Traffic. Sigh.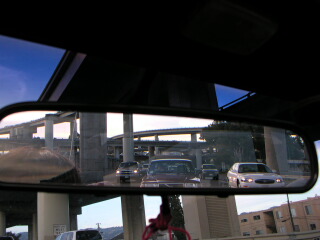 Wait! I know we're back at my house now, but I forgot to return a video. Wanna take a walk? [I find myself wondering if I've lost my mind and tell myself that someone somewhere besides myself might enjoy this, so I'll keep going with it.]
Bet you didn't know this is what Oakland can look like, huh?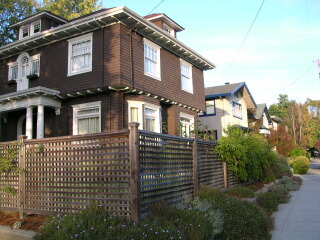 This one's for Em.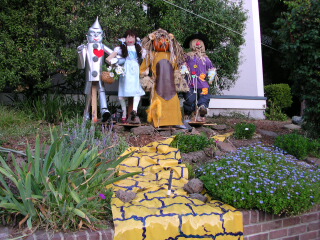 See? We have fall colors here, too!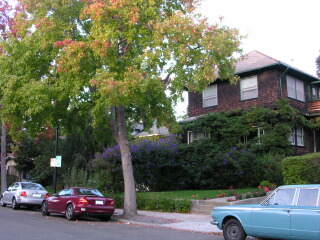 My local theater. The video store's just around the corner.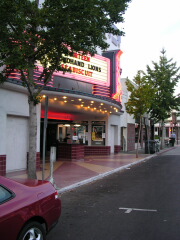 That's done. Almost home now. One more thing to do – let's peek in someone's house: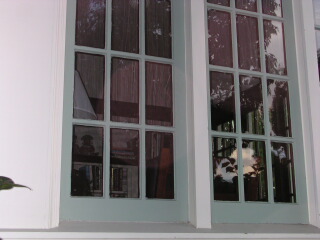 You're a dear and a darling for coming with me. We had so much fun! See you this weekend! Mwah!
Get a Free Short Story!
Subscribe to get a free copy of Socks for Alex, a Cypress Hollow Short Story, compatible with all devices!