I have Digit drooling on me, and I'm in a hurry (have my last Stitch'n'Bitch this afternoon – have to discontinue or move the meetings, since my new schedule will preclude meeting on Sunday afternoons). After the meet-up, I'm taking a cake decorated with the Ethiopian flag (who knew?) to a going-away party for my best friend. She really is actually moving to Ethiopia. For a year. That, folks, is daring – even braver than Bethany's road trip – and I want to visit her early next year. I think. I'll wait to hear from her before I pack my bags, though.
Went out last night, a charmed-type evening where I fell into a friend's dining plans, and had lovely, easy conversation with pleasant people. Ended up playing pool at the White Horse till all hours (people thought Karen and I had a Pool Thing going at the table and no one challenged us for at least a couple of hours). Drank a few 7 and Sevens, and I think I was flirting shamelessly. No, I know I was. I have phone numbers on napkins. I feel about twenty-one, and my headache agrees with this estimation.
Not much work on the LoTech Sweat done. I only need to sew it up, and I've been LAZY. But Rob hasn't – here's his progress on ONE of the Wave/Shell Shawls he's doing: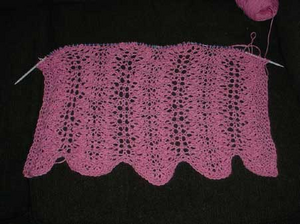 Oh, the Cascade Indulgence of it all. Have a good, relaxed Sunday.
Get a Free Short Story!
Subscribe to get a free copy of Socks for Alex, a Cypress Hollow Short Story, compatible with all devices!