Wanna hear my two complaints? They're good ones.
I stayed up too late reading my new copy of The Purl Stitch. A wonderful, generous, and extremely sweet little pixie who shall remain nameless (but some might know as Pioneer Melissa's doppelganger) saw fit to gift me with her extra copy and I'm so LUCKY! Up 'til two in the morning reading. And I mean gazing at every picture and explanation until my eyes swam. Lovely.
And then I had to rise early (whine, whinge) so I could order me up some Indigo Girls tickets. Ow! November 13th at the Fillmore, baybee. I'll be SO there.
So not much sleep. But SUCH good reasons, no?
I have a feeling that on this new shift I'll be way more pop-culture-fied. Thank god. I've been so out of it for so long. Well, since I was six, actually. Last night I developed a serious case of startitis and started not only a Booga J bag, but a top-down raglan a la Glampyre (love me some Noro). And I watched TV! Brand new Queer Eye, which was pretty damn funny – the dude just didn't seem to get it, that it's okay to spend money on some things. Like a bed. Or a shirt that doesn't suck. Or a gift for his girlfriend. Even when he got it, he didn't get it. You don't need to use your sweat rag to wipe the canape tray (that was so blatantly horrifying that I think he must have done it just to be funny). And did anyone else notice that he was seen briefly as a waiter in The Restaurant, the Bravo show that followed Queer Eye? Is that where they found him?
And have you seen The Restaurant? I'm a sucker for any Bravo reality show, and this one is AWFUL and great in its awfulness. I've only seen last night's episode, but it follows the opening of a restaurant conceived by a Celebrity Chef named Rocco. This doesn't mean anything to me, but more interesting to me than Rocco is the wait staff. The filming seems totally on, very accurate (the only thing they don't show is the drug use that is part and parcel of restaurant work).
I work 911, which can be stressful. I have to be able to make snap decisions about safety and life-saving priorities, deciding which lines to place on hold, which call to dispatch to the officers first, yadda yadda. But it ain't anywhere NEAR as stressful as waitressing. Oh, god, I'll never get over the three years I spent on my feet at the Oakland Grill. I still have nightmares about the tables that have been sitting for ten minutes with no drinks, about running out of wine (which apparently happened last week on the show), about losing entire tickets, about ticket walk-outs…. Nightmares about shots fired? Nah. About marrying ketchup bottles? Oh, yeah. I sat on the couch and worked on the Noro raglan and my stomach was in knots, just watching their faces as they realized that their customers HATED the food, that they were tired of waiting, that their orders were just plain wrong….. Awful, awful, awful. I'll totally watch next week.
I'm such a sucker! But I'm a sucker that's going to hear IG in a month, one with a fancy new book. Hope your day is going as well!
Digit reminds us to keep our extra toes clean: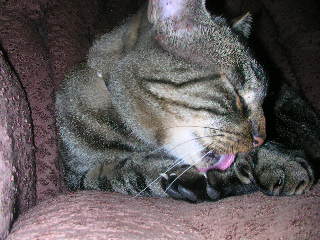 Get a Free Short Story!
Subscribe to get a free copy of Socks for Alex, a Cypress Hollow Short Story, compatible with all devices!