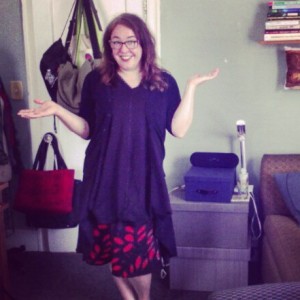 A-line dress in black, pewter stitching, red/black Bloomers stencil skirt
I was wondering why people were asking me, all worried-like, if I was still knitting. I didn't get it. I'm always knitting. Of course I'm knitting! I'm mostly done with Bethany's long-overdue sweater.
But I've always been the knitter who doesn't blog about knitting, haven't I? I get completely OBSESSED with new things, but it's never to the exclusion of others. Knitting and writing I always go back to. They're always with me, no matter what. I just don't photograph them as I'm going along.
But I tell you what, the Alabama Chanin sewing? It's blowing my mind. No WONDER people are wondering if I'm still knitting!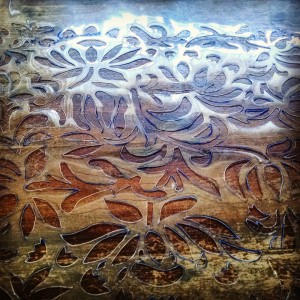 Anna's Garden stencil
I made it myself, after finding out the stencils run from $90-120. (Alabama Chanin encourages you to learn how to make your own things, using her technique. You can make your skirt from 2 thrifted T-shirts = $4. Or you can buy a kit from them = $300. Or you can buy one sewn by the artisans = $1900. Your pick. It's awesome. I recommend the fourth book, which comes with a CD that has all the previous books' patterns and all the techniques.)
People have been asking me about how I made the stencil:
I bought a large-enough sheet of .75 mil mylar from a local art supply (I think it was 24 x 30 inches, something like that). I also bought a $5 printout of the Anna's Garden stencil from the Alabama Chanin site. I used blue Sharpie to mark the mylar, then I used a heated stencil cutter* to cut it out (rested the mylar on the glass of a large picture frame so I didn't burn anything underneath). It took about 3 hours total, but since it's the stencil I'm most in love with, I can foresee using this one a long time.
Kay Gardiner commented on Instagram that this kind of sewing scratches the same itch that knitting does, and it's so true. I'm not a fan of sewing-as-in-mending. I'll let a ripped shirt go to the thrift store for recycling (watch this movie on Netflix, The True Cost, to learn more about the clothing industry — fascinating), and buttons that fly off my sweaters (because I swear that's what they do) tend to stay off for way too long. And I love to sew clothes, but it's really time-intensive. You have to be with your machine. You have to have your stuff. I was never a person who could sew for just twenty minutes and then put everything away.
But this hand-sewing is portable. You're embroidering small pieces. Everything is in my little sewing basket. No one stitch matters too much because there are so many of them. If you screw up, you're going slow enough to fix it (not so with a serger! Oh, no! Zip! And your finger's lying on the ground along with the sleeve of the dress! Maybe I'm not the best with my serger. Hmmm).
And this kind of sewing is gorgeous. Slowly, so slowly, I'm making pieces of clothing that works with MY aesthetic. So far I've made a skirt, and a dress, and a tunic, and now I'm working on an embroidered tank. I want to wear all of them, every day. This is my style. This is ME, because I chose it. I spent hours and hours making it, thinking about it as I went. I made the dress out of Alabama Chanin cotton I bought at Verb, but the other pieces are all from thrifted T-shirts (god bless a 5XL man who's not too hard on his clothing — I SCORED at Thrift Town — some still had tags on!)
It's bringing out creativity, too. Shirts big enough–those 5XLs aside–can be hard to find. I love gray. So I cut up 5 shirts and started piecing them, for the tunic.
It was fast and dirty, just like everything else I do, but it worked out well. I cut strips and basted them together so they were big enough to use to cut out the pattern pieces.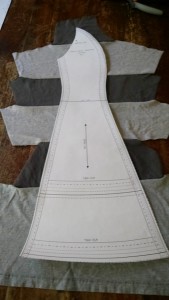 Ended up with pieces like this: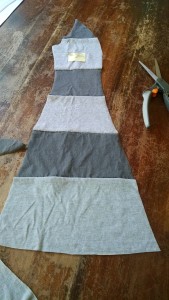 which I then sewed together into this: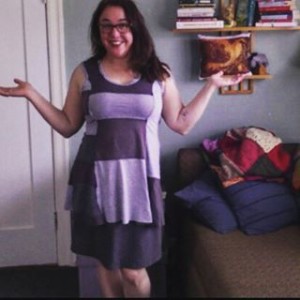 Comfy worn with this gray skirt! (Flat-felled to the outside, knots in, 2 ply black button thread.)
Now I'm working on a black-under-blue tank (same as the above tunic, just a bit shorter).
I sponge-painted the pieces with Jacquard cloth paint. It was a SUPER messy process, and I did it on one of the days recently which was like 140 degrees in the house, so I sweated and swore my way through it. But it was worth it.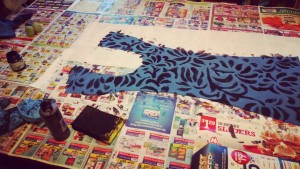 Look how beautifully it's stitching up!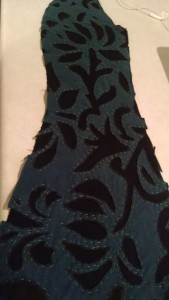 That particular pattern, Anna's Garden, just makes me weak in the knees. This one will take a while (the simple sewing, like the black a-line and the tunic, go REALLY fast — appliqué like this, of course, goes slower. Still, everything is faster than knitting, amirite?). But slow is okay.
Slow can be really darn fine, actually.
* affil link: That stencil cutter was a piece of crap and I broke both tips. But it worked till I was done, so there's that.
Get a Free Short Story!
Subscribe to get a free copy of Socks for Alex, a Cypress Hollow Short Story, compatible with all devices!