Why doesn't the Tiger Balm pot ever run out? Have you noticed that? I'm sure I've bought Tiger Balm before – I remember buying some in New Zealand when I hadn't brought mine – but I can't remember ever HAVING to. There's always some more left. I have one little jar of the ultra-strength that I can trace to a relationship nine years ago. There's still plenty left. And I use it all the time! Not sparingly, either. Here's the Ancient One: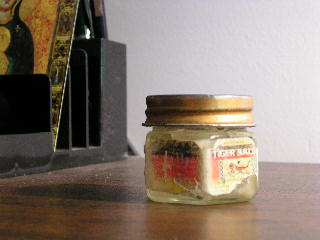 Is it odd that I time things by relationships? Do others do that? I used to remember my hairstyles by the person I was with at the time. It's been a busy year, though, so lately I've been remembering to get my hair cut by using dating as a clock. Oh, god, I haven't talked to her in about eight weeks. I had just had a haircut then. Must be time to get another one.
Why can't I simply remember it was December of 1999 when I cut my thumb so badly that I needed surgery? Why do I have to remember that Lynn and I were breaking up in order to place the date? Years don't mean that much, I guess. People do. That's the simple answer.
Of course, during the longer ones, two and three year relationships, I lose all track of time. I can trace particular cars owned and food likes and CDs bought only to time frames. Between 2000 and 2002. Somewhere around 1994 or 1996. I know who was IN said car or liked said CD, but that just narrows it down some.
It's why I write so much, always have, in either morning pages or online: It's because I CAN'T REMEMBER ANYTHING. I'm legendary for it at work. I don't remember a thing people tell me. It makes me a safe repository for secrets, I can tell you that much. You can't spill what you can't remember. Just yesterday, I was watching an early episode of Queer Eye with my sister Christy. When Jai (AKA QueerEye Candy, 'cause he never gets to DO anything) came on, I got all excited. "Hey! You know what! He's…. He can….. I think he was a singer…. or something….."
Christy looked at me and said, "He was in Rent on Broadway. I told you that."
Partners hate this in me. But they can tell me their best stories, over and over again…. That's a plus, right?
I'm so rambly today. Have a lot to do to get ready for Strawberry and I'm not doing anything. I think I'll read blogs and knit instead. I JUST managed to line up the cat-sitter a few minutes ago. Nothing like the last minute, says I.
Oooh – didja see? The Grammar Avengers webring is now official, thanks to Em! Link to right. Let me just state for the record – I know and understand most rules of grammar. But I either 1: break them on purpose for effect or 2: break them because I'm lazy. I joined because no matter what I say, I'm still obsessed with THINKING about grammar. Even if it don't show much a'tall in practice. Yup.
And just for fun, here's Digit a few minutes ago: (check out those extra toes….)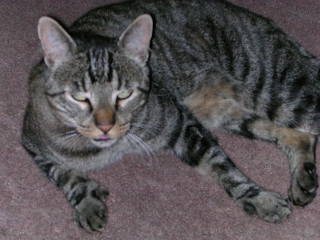 Get a Free Short Story!
Subscribe to get a free copy of Socks for Alex, a Cypress Hollow Short Story, compatible with all devices!