Bethany just said, "Periodontal disease is one of the biggest killers of domestic animals." Oh, yipes. I was just telling her that Digit's breath smells like sheep. It's been stinky for a long time, but it wasn't until we were lying in bed this morning that I realized he was reminding me of a sheep farm, dirty mud and all. I gotta tell you, it smells better on the sheep.
Ew. Bethany says if the teeth get infected, the infection can travel through the body, causing all sorts of other horrible things to happen to the cat. I was hoping for a spinning wheel soon. Now I'll need to buy a kitty teeth cleaning instead…. Ah, well. The things we do for love. And hygiene.
The little mama watched the kitties for the last three weeks while I was gone, and Dad had business up here this week, so he brought them to me yesterday. It was awful – I had to say hello to my babies and then go to work (oooooh, I was grumpy). But I was sure cat-full during my sleep today. Bethany said they tripped back and forth between me. When Digit would move from my head, Adah would move in.
They were the mighty hunters at Mom's house – pulling in a lizard or bird a day apiece. I still have no idea why they don't seem to need to go outside when they're here in Oakland, but they seem fine again as indoor cats. Thank god. They're safe at Mom's house. Here, even with my fabulous backyard and neighboring yards, there's still traffic and mean dogs and mean people and I want them inside with me, if at all possible.
I think you need a couple of pictures, don't you?
Such a mug on this one.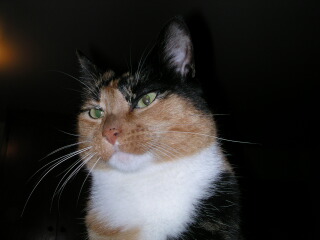 Look at all these toes! Keeps him busy.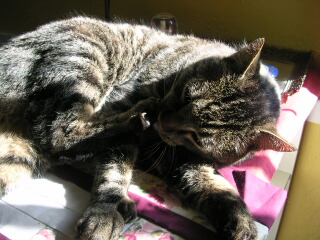 Oh, he's curled up next to me right now, on the little computer table, next to my coffee cup. For a grumpy little man, he's sure smiling right now.
Excuse my excessive cat sentimentality. Mwah.
Get a Free Short Story!
Subscribe to get a free copy of Socks for Alex, a Cypress Hollow Short Story, compatible with all devices!