I read a bunch of enchilada recipes and then went off the road, and I want to make sure if I ever want to veer back this way, I can, because these are SO GOOD, yo.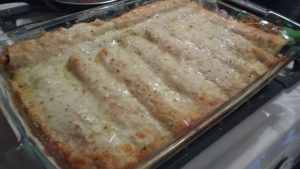 In InstantPot (if you have one, otherwise just cook the chicken whatever way you want, it's all good): Chop one onion, throw it in. Add in 6-7 boneless skinless chicken thighs. Drape 3 chipotle peppers artistically on top. Throw in some cumin (1tbsp?) and some salt. Close. Press Poultry button (15 min, medium). YES, I know there's no liquid, no, the InstantPot won't explode. The chicken makes plenty of liquid.
When cooked, preheat oven to 350. Remove chicken and peppers, shred both. Pour off liquid in pot, reserving the onions floating around. Add chicken/peppers to pot with onions, add can of corn.
Shred a 12oz block of pepper jack cheese. Add about a quarter of it to the hot chicken, along with a couple of great big dollops of sour cream. Mix. Taste and die a little with the wonder of it all.
Dredge corn tortillas (ours were still hot when I bought them earlier today) through green enchilada sauce. Fill with chicken mix. Roll and place in glass baking pan. When you've got as many as you can fit in your pan, pour the rest of the enchilada sauce over the top, and top the whole thing with the rest of the shredded cheese.
Bake uncovered for 30 min. Serve topped with more sour cream and cilantro, if you have it.
Get a Free Short Story!
Subscribe to get a free copy of Socks for Alex, a Cypress Hollow Short Story, compatible with all devices!