A while ago, I had the idea that I'd put together a little book—pulled from blog posts—about moving from the desire to write to being a writer. I hired a person to go through my fourteen years of blog posts (that's a lot of posts, a great many of them full of angst about wanting to write more and not doing it).
I'm still going to do the book, because I think it's a fun project, but I realized I hadn't edited it yet because I'm too busy writing. Same thing with not blogging more.
I used to write about wanting to write.
Now I'm too busy writing.
And that's so awesome!
There's a lot of hustle in this self-employed game, I'll tell you that much. I'm constantly plotting, both literally and figuratively. I'm writing a book that's due in a month to Random House Australia (the third Songbird book!), and then I'm going to write a book (newish genre!) for my agent to sell, and then I'm going to write another Ballard Brother book, so the next six or seven months of fiction writing are occupied. (That's the way I think about it. FULLY BOOKED. Like the hotel I used to work at, the shingle is out: No Occupancy. I get ideas and shuffle them into a file in Scrivener. No time for you now, come back later. Book your brain reservation early.)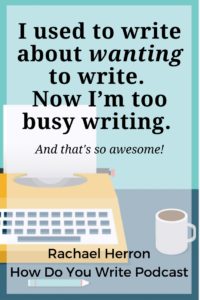 I'm happy with the side gig I've recently made for myself, formatting the interior of print books for self-publishers. It's bringing in a little cash, and while Lala's still unemployed, that's welcome money. Another thing I really like about it is that it's not creative. At all. I plug manuscripts in. I format them. I collect money for doing it. It's like doing the budget: I put numbers in and move them around, and it feels good. My word brain rests.
It's nice to rest the brain. I'm still very bad at relaxing, and it's perhaps possible I've gotten worse at it, now that I feel that all my time at home should be Productive, but I'm working on it. Later today, I promise to spin a little bit. Spinning while watching TV is something that never fails to soothe my spirit and brain.
What will you do today to soothe your brain? (And thanks, as always, for reading. You're the reason I do this. YOU.)
(Also! I'm trying to be more active on Pinterest. Turns out that it's a good place for resting the brain, too. Come join me?)
Get a Free Short Story!
Subscribe to get a free copy of Socks for Alex, a Cypress Hollow Short Story, compatible with all devices!