I'm an okay knitter. I'm no Wendy, for gosh's sake, but no one is (that's why we worship her). But I'm all right. I can cable. I can do color work. I can do fancy cast-ons and bind-offs.
SO WHY THE HELL CAN'T I MAKE A DECENT I-CORD? They always suck. I know, this one'll be felted, so I don't care. But what's my freaking problem? I alternate between pulling the first stitch taut and leaving it easy. No dice. Still freaky weird loops appear wherever they feel like it, taunting me.
Look: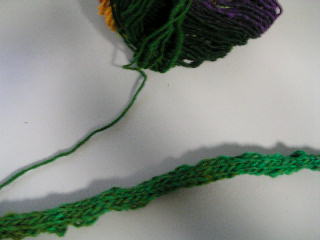 Bah.
Here's the Booga J bag, pre-felt: (I love it, you darlings: Rob and Greta!)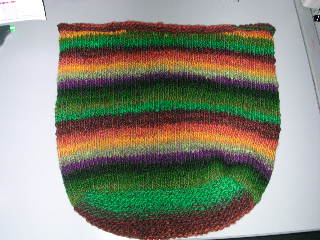 Now. Off to bed for a quick nap, then a drive down the coast with the top down (which sounds lovely, but will be more like a buggy race through garlic fields with dry heat in the triple digits), and to the conference tonight.
Enjoy your weekends, folks. Knit a lot. Love a lot, too. Uh huh.
Get a Free Short Story!
Subscribe to get a free copy of Socks for Alex, a Cypress Hollow Short Story, compatible with all devices!