Knitty's live! Whoo hoo! And it's fabulous. Get my credit card, I need some yarn from the boys.
And Bethany's rambling.
So I'm home. And I've posted (below) a little bit about the writer's conference, which I'm glad I went to. Ending sentences with prepositions. No avenger am I…..
I'm also glad that:
I'm Finished Object Queen this weekend!
Well, only two FOs. But Suki's felted, and I deserve a beer for that. Right? Maybe a martini. Yeah.
I give you the Before (of Suki and Cutes (aka Booga J. in Noro Kureyon #88)):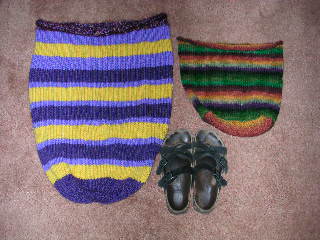 And After: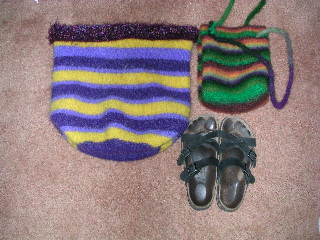 And here's Cutes all fixed up and ready to go.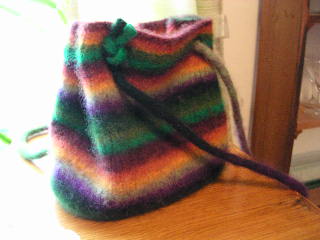 I have to admit when I started this project, I thought it was going to be closer to Suki's size. So I was surprised when it turned up all small and cute-ified like this. The opposite of Suki which I must have done wrong (and I knit large, also). This is how I dried it halfway: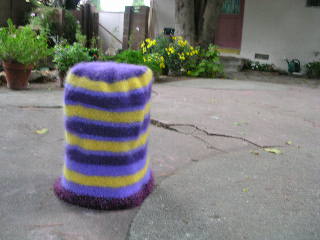 This is a TREE STUMP that the cats sit on in my mom's backyard. It didn't quite dry, so I put it on passenger seat in the convertible on the hot drive home today. I mean ON the seat – over the headrest and down about half-way. One man almost crashed trying to figure out how I got Dr. Suess in my car. No photos, alas.
And also, I finished LoTech Sweat! Bonne Marie can do no wrong, in my mind.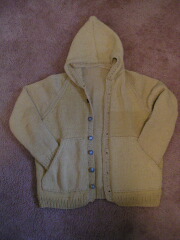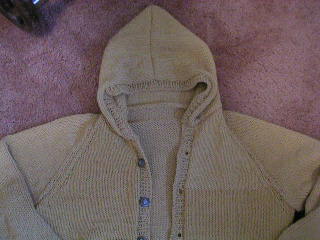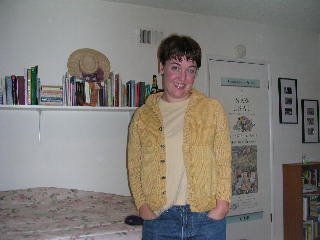 I love it. Adore it. Lament my regrettable sewing skills, but hell. It's cozy and comfy (just Lion Brand Kitchen Cotton – color Maize) and I've already impressed my folks and two friends with it. Whoo hoo!
Now I'm home, Digit growling with misunderstood happiness. About to work on some socks. Happy. How're you?
Get a Free Short Story!
Subscribe to get a free copy of Socks for Alex, a Cypress Hollow Short Story, compatible with all devices!