Bethany's too cool.
I've had an extremely low-key weekend, which I needed. I spent hours and hours in front of the television working on my Wave-Along shawl (for some reason, this is the shorthand way I think of it – not the awkward long name it goes by to the right). And ohmigod, I love that thing. I've already told my friend Marama, who kick-started this whole thing by asking me sweetly for YEARS when I would have time to make her a little shawl, that she might not get it after all.
Check it: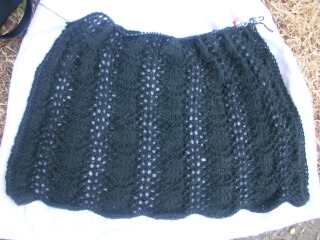 And a detail of the Indulgent softness: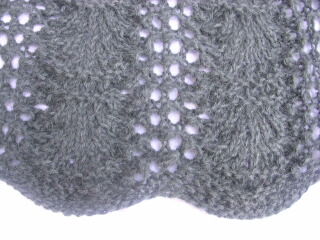 I even took the shawl outside to get these pictures (it's REALLY hard to get pictures of dark grey fiber, especially when it's lacey). Today is the first day I've felt Fall approaching – there's a warm wind, and leaves are clattering on the sidewalk. I took Wave-Along outside, put it on an old white nightie for contrast, snapped a couple of shots, AND THE WIND CAME UP AND PUT LITTLE PIECES OF TWIGS AND DIRT ALL OVER IT. I haven't shouted at the wind in years. But I did today, godamnit. Then I hustled inside; the neighbors were peeping out windows. "My god, I think she's taking pictures of dirt. And is that, no, a nightgown? This is Oakland, not San Francisco! She cain't do that here!"
I re-read Stephen King's On Writing this week. I'm not a fan of his – he's just too frightening for scaredy-cat me – but I think his book is one of the best out there on writing. It's one of the three I re-read (the others are Lamott's Bird by Bird and Ueland's If You Want to Write). He's a good one for motivating. He's not for the faint of heart, though. He doesn't say you'll be great if you work hard. He says you're either born great (like Faulkner and Eliot) or you can practice a whole hell of a lot and maybe get pretty okay at writing. Maybe even good. But if you're not great today, you won't be great tomorrow. Instead of pissing me off, this is kind of reassuring to me. Well, okay then. I'll just plod along (typo: plot along) and get this book finished. Then I'll start the next one.
I'm also reassured by his belief in letting the story take you where you need to go. It's when I start to think about Plotting The Novel that I get frustrated. It's like pushing mud. I can't make the pages behave, I can only get the words onto the paper. He, too, is advocating the shaping of the work coming after it's totally written. THEN you make it into something. Thank god. 'Cause it ain't much now.
I figure, with work, I can finish this bad boy up in about a month or so. Two at the outside. And then, says Stephen King, I need to take at least six weeks away from it before starting to revise. That'll be enough time to order me up some more Indulgence as a reward, dont'cha think? I need a carrot on a string. I'm a simple girl.
Oh! Here's Joan-in-Reno's Wave-Along, made in a mohair/acrylic Lion's Brand yarn, and a shot of pretty Emma checking it out, too.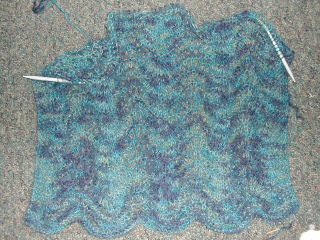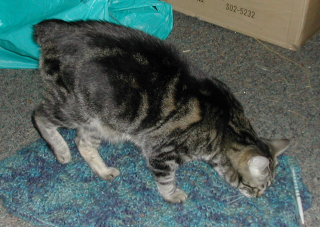 Get a Free Short Story!
Subscribe to get a free copy of Socks for Alex, a Cypress Hollow Short Story, compatible with all devices!