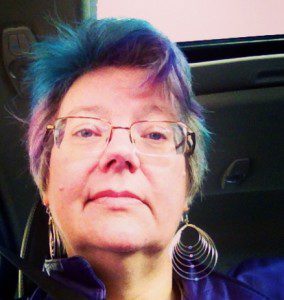 Cat Rambo lives, writes, and edits in the Pacific Northwest. Her work has appeared in such places as Asimov's, Weird Tales, and Strange Horizons. She was the fiction editor of award-winning Fantasy Magazine and appeared on the World Fantasy Award ballot in 2012 for that work. Her story "Five Ways to Fall in Love on Planet Porcelain" was a 2012 Nebula Award finalist. She has worked as a programmer-writer for Microsoft and a Tarot card reader, professions which, she claims, both involve a certain combination of technical knowledge and willingness to go with the flow. A graduate of the Johns Hopkins Writing Seminars and Clarion West, she also works with Armageddon MUD, and writes gaming articles. A frequent volunteer with the Science Fiction and Fantasy Writers of America, she is currently its president.
Craft Tip: Think about being inside your POV character's head. You can think about it in terms of a camera. You can have the camera back a few inches, watching (and that's where you have things like "she thought"), as opposed to putting it right behind your character's eyes. That's one of the things you have control over, how deeply you're immersed in your character's head, and honestly, the more deeply you're immersed, the better.
Subscribe to her newsletter to get first crack at her classes!
Listen above or subscribe on:
iTunes | Stitcher | Youtube | Facebook
Get a Free Short Story!
Subscribe to get a free copy of Socks for Alex, a Cypress Hollow Short Story, compatible with all devices!