Not much sleep today, nor will I have much tomorrow, but it's my own blessed fault, and it's all for a good cause. The cause, of course, being me hearing live music. Uh-huh. Das right. Bring it.
There's a place in Berkeley, you might know it, called the Freight and Salvage Coffee House. It's a music venue, a big ole wooden hall that remind you of a huge boxcar, and it serves coffee and muffins in the back. That's right. Coffee. The first time I went I was horrified to realize they MEANT it. Coffee. Equals no alcohol. I'm sure plenty o'flasks get shipped in under coats, but its dryness will come in handy tonight and tomorrow night when the concerts are followed by a work shift. Nothing worse than going out with friends to dinner and a show, watching them guzzle, then saying goodbye and driving to work.
Tonight, we're hearing Slaid Cleaves. When I first heard this name last year, I assumed it was an Irish girl singing Celtic songs. Nope. He's kind of alt-country (y'allternative) with some great songwriting and a kick-ass band. And he's sexy as hell, can't get around it.
Tomorrow night is Kris Delmhorst, another singer-songwriter who actually writes songs that mean something. Both links to The Freight's page have sample songs at the bottom. Enjoy.
Bethany's post today kicks ass. I worry about her. Not much, but just a little. But then I get this kind of post and realize that no matter how odd or creepy the surroundings, she'll take care of herself. I just got a phone message from her that said, "I'm driving. I just ate a piece of cheese that was over a year old. And I washed it down with two-year old water. Miss you!"
And while I was talking to her yesterday on the phone she said, "Hang on, I think I just missed my turn. I'm going to turn around. Going through these big open gates. Okay, here's a good place to turn around. Holy SHIT! I'm on a runway!" Luckily no planes happened to be landing.
I've got Adah sitting beside me, and I have to post a couple of pictures of the pretty thing. She IS gorgeous, but I can't tell you how annoying she is. I have to do cat yoga in the morning with her before I go to bed. She drags me, one paw wrapped around my ankle, into the living room where I do seated positions, bending forward to the floor, my hands rubbing her head. That's all she wants in life – her head to be rubbed. It's neurotic and vaguely disturbing how much she desires this, but we both get happy, me stretching on the carpet, she rolling blissfully around my outstretched hands. She's not as dumb as she purports to be.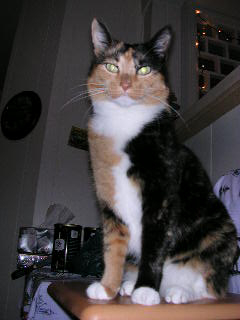 Here she is working on the sock I finished last night.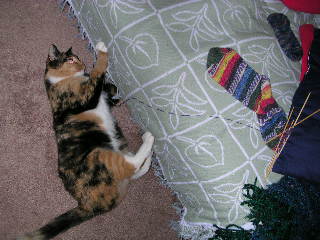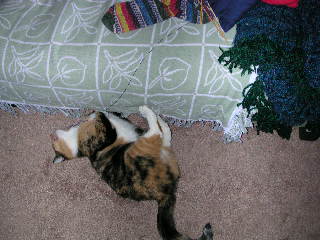 One sock down, one to go. I swear I've never been so sock-obsessed. I just want to get them finished so I can (re)start the wave-along shawl….. And then two more Booga J bags, and some Koigu socks, and that GORGEOUS sweater Steph's starting from a Paton's pattern….. Not to mention Christmas. Blimey.
Get a Free Short Story!
Subscribe to get a free copy of Socks for Alex, a Cypress Hollow Short Story, compatible with all devices!