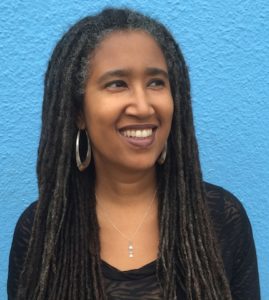 Aya de Leon directs the Poetry for the People program at UC Berkeley. Kensington Books published her debut feminist heist novel, UPTOWN THIEF, in July 2016. Her writing and performance work has received acclaim in the Village Voice, Washington Post, Oakland Tribune, San Francisco Chronicle, SF Bay Guardian and the East Bay Express. A graduate of Harvard College, with an MFA from Antioch University, Aya has been an artist in residence at Stanford University, a Cave Canem poetry fellow, and a slam poetry champion. She publicly married herself in the 90s, and from 1995 to 2012 hosted an annual Valentine's Day show that focused on self-love. She also blogs and tweets about culture, gender, and race.
Craft Tip: Adopt NaNoWriMo as a lifestyle. The more you write, the better you get.
Listen above or subscribe on:
iTunes | Stitcher (No video on this episode)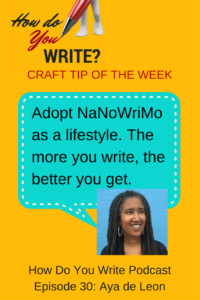 Sign up for Rachael's FREE weekly email in which she encourages you to do the thing you want most in the world. You'll also get her Stop Stalling and Write PDF with helpful tips you can use now to get some writing done (free).
TRANSCRIPT BELOW:
…