Cari wrote about her character's soundtrack – her favorite songs and albums, which have less to do with Cari's taste than her character's. I'm digging that, hard. I'm terrified to write to music, lest the sound and mood of an individual song prompt one of my characters into a swan dive of an emotion I won't be able to drag her out of.
But isn't that the point?
I think my biggest weakness in writing has always been an element of fear that I just can't seem to get over, around, under. I KNOW my writing is tight – that I'm not addressing the deepest, rawest emotional level that my characters can have. It's surfacey. And when I dive below that surface, I pop up quickly, gasping for breath. Never quite sure I'm authorized to write about the scary stuff. Not sure I have the security clearance for it, and even if I did, I'd need it in writing, a little badge – "Cleared for reality," with all the relevant signatures attached. I can't even SEE the scary stuff sometimes for all the fluff I keep bobbing around on top.
Now I have an image of a really dirty, foamy sea, and that's not the metaphor I was aiming for. Well, I wasn't aiming for one, but this is what I got. I'm going to leave it alone and do my writing and just let myself feel it. That's all I really need to do. And be unafraid. (It's hard, isn't it?)
For your weekend, I give you Adah playing with her favorite toy under Her Chair: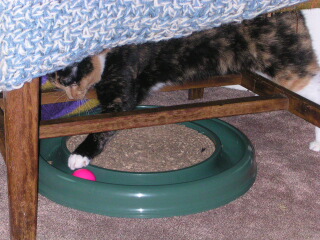 And this, which captured a rare daytime snuggle with the Boy: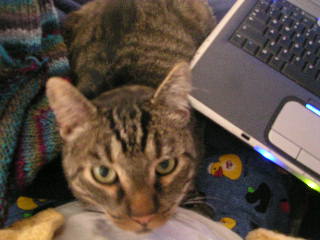 How happy am I? Reading blogs to the right, Digit on my lap, my Noro knitting to my left, and you can see I'm wearing my ducky p.j.s again, as well as my LoTech Sweat. Happy day.
Get a Free Short Story!
Subscribe to get a free copy of Socks for Alex, a Cypress Hollow Short Story, compatible with all devices!