I adore Stephanie Klose, and I have for a long time (so much so that we're vacationing together soon!). She's a knitter extraordinaire, and a Brooklyn-based writer and editor. You've seen her Best in Show Craftsy's 2014 Silvermine knitted wedding dress, right? Oh, you should see it now, if you haven't: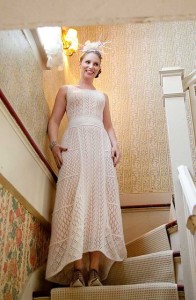 Let's kvell for a moment. Linen/cashmere, people. Her own design.
Okay. Whew. *wipes brow* I will never get over that dress.

Her side hustle is makin' soap, and she's just as good at soap as she is at everything else she does.
Schoon Soap. Now, there are a lot of soap makers out there, and I'm a scent-fiend. I have one of those dog noses (which makes it very hard o live with dogs, I'm telling you). Scents are hugely important to me.
And basically, I never ever ever want to live a life without her Herkimer soap. It's spicy and clovey and completely wonderful. (Clove, cinnamon leaf, rosemary, eucalyptus, and citrusy, earthy litsea cubeba.) I love ALL her soaps, but this one has become essential to my day.
And she's doing a giveaway AND a discount code for us!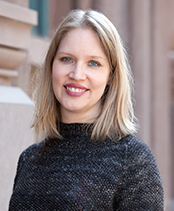 1.  Hey, Stephanie, in life, what's your very favorite smell?
As if I could narrow it down to one—there are SO MANY smells I love. 🙂 Some of my favorites, like mulch or woodsmoke, don't really lend themselves to soap, but some do, like cardamom and bergamot. And then there are plenty of scents I love that are perfect
for soap, but can only be achieved using synthetic fragrances (lilac and almond come to mind), so they aren't a fit for Schoon.
2. Do you do all this boiling/making in your home? What's your setup like? 
I do all of it at home! Part of me likes the idea of a dedicated studio, but if I had to go somewhere else to do it, I'd be a lot less productive. I make the soap in our kitchen and use the guest room/office/amp storage room to cure the bars, wrap and label them, and store the wrapped soap. We also do all of the packing and shipping in there.
[YOUR HOUSE MUST SMELL SO DAMN GOOD.]
3. We are going to Iceland together! What are you going to be knitting? And will you be wearing any Alabama Chanin while there?
I'm SO EXCITED about Iceland! I'm not sure yet what project(s) I'm going to bring to work on (something at least moderately interesting to keep me entertained on the flights and something simple for bus rides and so on while we're there, I think), but I did spin and knit a sweater especially for the trip. The yarn is one ply of a variegated charcoal Gotland fleece I bought at Rhinebeck two years ago and one ply black commercial silk/merino top. The Gotland is pretty hairy and wild so the silk/merino is barely visible; it just gives the yarn a little weight and drape. The sweater itself is a completely plain stockinette raglan pullover that I think I'll wear to death if I ever get the neckline right. I've redone it three times now, but I'm still not 100% happy with it.
I'm going to try to pack as little as I can get away with (something I imagine you'd approve of), but I do have an Alabama Chanin skirt in the works using an old wool jersey dress I felted. That might be just the ticket for dressing up in Iceland in late October. 🙂
ONE WINNER will win a four-pack of soaps of your choice.
TO ENTER:
Go here. Peruse her creations. Leave a comment with which four soaps you would prefer if you are the lucky winner! Winner will be drawn in two days, Saturday afternoon. (International entries okay.)
Get a bonus entry by joining her email list.
If you miss out on winning, or just can't stand waiting, use the code SOAPAGOGO for 25% off, good till Oct 16, 2015.
And if you buy all her Herkimer, I will come to your house and get some because I can't live without it.
Winner has been drawn – congrats, JudithNYC! You've been emailed.