You'll notice that I actually named no names when I posted that picture of the melted keyboard. I happened to be NEARBY when it was boiled. I take great comfort in the fact that I didn't do the actual scalding of said keys. Of course, I'll admit that in the back of my head, I was thinking, "that's terrific! What a good idea! I'm going to do that when I get home!" And when they came out all twizzlered like that, I was the first to make fun (and the first to grab the camera). But I admit, I did think it was pretty smart there fer a minute. Hee.
Here are the toe-up socks I finally finished.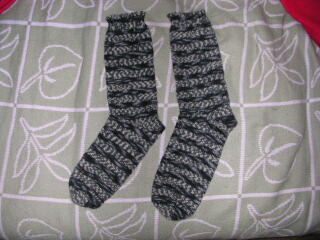 I used the marvelous Wendy's pattern, and I love the short-row shaping of it, but I think I'm going to modify it a little. I CAN'T USE SIZE ZERO (US) NEEDLES EVER AGAIN. I kept accidentally using them to pick my teeth. Or shishkebob. Hey! How'd that piece of cubed beef get on the end of my needle? I was fearful for my eyes, they were so small and sharp (the needles, not my eyes). I think next time I'll take some of the stitches out and use perhaps a size two. Maybe even three. It just took toooooo long, even though I do love the weft of them.
Last night I dreamed I couldn't find a friend after an evening of exquisitely unexpected and entirely unavoidable closeness – we were at an amusement park with differently themed rooms. I left clues, my jacket on a post, and saw his clues, his hat on a fake tree, but we were both too busy and too smart to look in the right places. That was the worst part – the knowing he was somewhere, just around the corner…..
Aargh.
I do love the FEEL of life, though, don't you? The quiet joy of any expressed emotion. It makes it all worth it.
Avoid the skewer bamboo needles. I'm convinced they're more dangerous than we know. And don't boil your keyboard.